Yukata・kimono wearing experience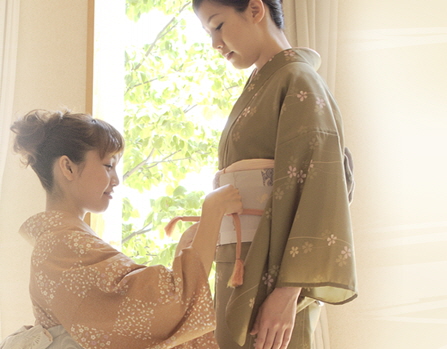 Durata: 1 Ore (aprox.)
Locatie: 延岡市, 宮崎県
Cod produs: EN-MZK-7032-70320
【OUTLINE】
Since our founding in 1933, we have devoted ourselves in business with "whole-heartedly" and "Trust comes first" as mottos. We have proposed the rich and charming life style under the theme of Harmony. Enjoy Japanese culture - Kimono!   
【SCHEDULE】
1. Choose your kimono
You can choose your favorite kimono from a wide variety of kimonos we have.
2. Dressing
According to your request, we will dress you kimono. You can get your makeup and your hair done to suit your kimono.
3. Photo Session
You can take photos of yourself in kimono using your camera and so on.
4. Taking a Walk
You can enjoy walking around the shop wearing kimono.
5. Return the kimono
Please change into your clothes and return the kimono. How did you enjoy the experience?

【THINGS TO NOTE】
Time:1 hour
Meeting point:Morikyu Kimono Shop [MAP]
1F, Morikyu Building , 1-3-8 Gionmachi, Nobeoka-shi, Miyazaki
Access:
〇 10 minutes walk from Nobeoka Station on the Miyazaki Prefectural Route 220(about 750m)  
〇 4 minutes drive on the Shinwakaido(Himuka Myth Road)/Japan National Route 218(900m)
Participation requirements:5 years of age and over
Options:Kanzashi / hair ornament, hair setting
Language support:English (Simple conversation)
Included:
・Women: yukata/kimono, obi (belt), underwear, purse and geta (wooden sandals) + dressing fee
・Men: yukata/kimono, obi (belt), cloth bag and geta (wooden sandals) + dressing fee
Other things to note:(For women) If you are taller than 170 cm (66 inch,) please contact Attractive JAPAN for information.
【CANCELLATION POLICY】
7 to 4 days before the tour date 40% of the tour price
3 to 2 days before the tour date 60% of the tour price
The day before the tour date, on the day of the tour 100% of the tour price
※Right after the online settlement is made, a cancellation fee of 10% will be incurred in case of cancellation.
※The cancellation fee includes handling charges.