Experience Authentic Matcha Tea Ceremony in Traditional Kimono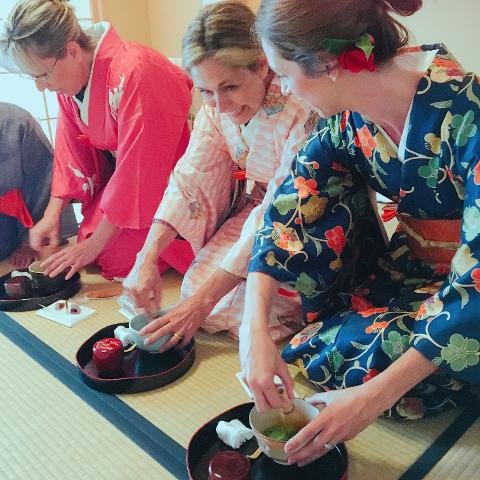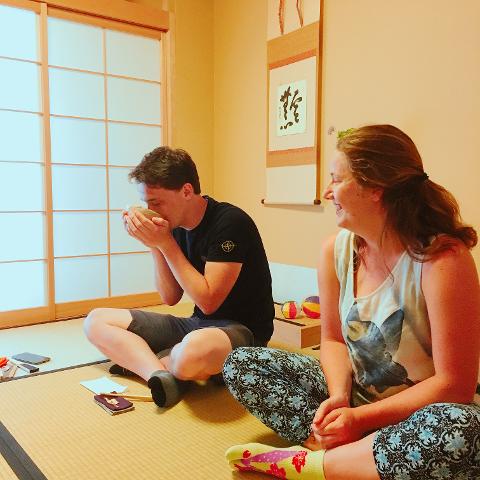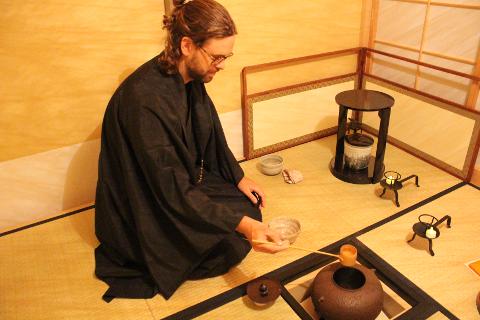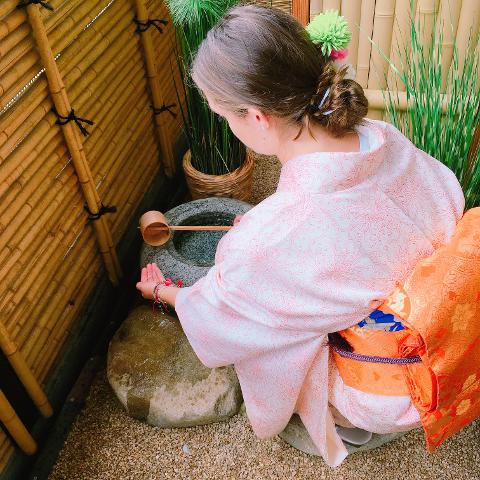 Duration: 90 Minutes (approx.)
Location: Hiroshima-shi, Hiroshima
Product code: EN-HSM-4029-40291
【Outline】
An authentic tea ceremony will be delivered for you, by a dedicated tea master.
This experience takes place in Tessen, a place where international exchanges are held for foregin tourists and locals in Hiroshima. You can wear kimono from the beginning of the lecture and learn the fascinating ritual from scratch. This plan offers rewarding opportunities to gain insight into Japanese cultural roots. Immerse yourself in the wonderful world of tea ceremony.
【Highlights】
An authentic matcha tea ceremony delivered by a dedicated tea master.
Rest assured that the lesson will be held in English.
An exclusive experience in small groups; the lecturer will give a clear and easy to understand explanation.
Wear kimono to help you gain a deeper understanding of Japanese culture.
【Schedule】
Arrival (Change into a kimono)→Listen to an explanation of tea ceremony→Hands-on experience→Question time→Photo time→End (Take off the kimono)


【Details】
Tessen is one of the most historic and authentic places for Japanese tea ceremony in Hiroshima. Here you will learn what a genuine tea ceremony looks like. Tea ceremony in Japan isn't only good for tasting the best quality of matcha, but it's great to learn "the way of tea" too. "The way of tea" is a method to cultivate sophisticated behavior, appreciation for nature and thoughtfulness to your neighbors in the tea room. That is the reason the tea ceremony has been preserved and developed across generations.
First, you will change into kimono and listen to an explanation about many aspects of the tea ceremony. You will learn the history, spirit, and basic way of the tradition, followed by a tour around the room where tea is made, from scratch. In this program, you will have the opportunity to sit beside the instructor and observe the ceremonial preparation of the tea, indulge in your first cup of green tea and handmade Japanese sweet.
While the second Japanese confectionary is being served, you will have the opportunity to whisk a bowl of steaming matcha tea yourself. In this program, you will master the art of preparing and serving tea and have the opportunity to savor many different flavors.
There will be enough time for a Q&A session, so please do not hesitate to ask as many questions as you want (rest assured that your questions will be answered in English).
Seasonality and the changing of seasons is crucial to the enjoyment of tea, particularly as each season has its own peculiarities and methods. Traditionally the year is divided by tea practitioners into two seasons, therefore two types of confectioneries are meticulously prepared to represent each season.
Please note that chairs can be arranged for those who experience difficulty sitting low down to the ground. In addition, visitors can have a commemorative photo session (photos will be sent to you by e-mail), so please contact us if you are interested.


【Things to note】
Time:90 minutes
Meeting point:Tessen
602, 1-3-11, Itsukaichi-ekimae, Saeki-ku, Hiroshima-shi
Access:
A 4-minute walk from the North exit of Itsukaichi Station on JR and Hiroshima Electric Railway.
Leave the station from the North exit and go straight.
You will find the shop on your right.
Language support:English
Included :Two cups of Matcha tea, two kinds of sweets (fresh and dry), tabi socks, complimentary drink (before and after the experience)
Participation requirements :
A child of 6 or over can join the experience.
Adult fee applies to anyone aged 13 and over.

Free Wi-Fi :◯
Other things to note :
・If you arrive late for one hour or over, your reservation will be regarded as canceled and a 100% cancellation fee will be incurred.
・When bad weather is expected, you will be notified of the cancellation at least 24 hours prior to the appointed time.
・The Matcha tea and sweets can be enjoyed by Muslim, vegetarian and vegan customers. If you have any question, please consult us before making a reservation.

【Cancellation policy】
7 to 4 days before the tour date 40% of the tour price
3 to 2 days before the tour date 60% of the tour price
The day before the tour date, on the day of the tour 100% of the tour price
※Right after the online settlement is made, a cancellation fee of 10% will be incurred in case of cancellation.
※The cancellation fee includes handling charges.