Make Hiroshima's #1 Food, Okonomiyaki & Tour the Museum and Sauce Factory!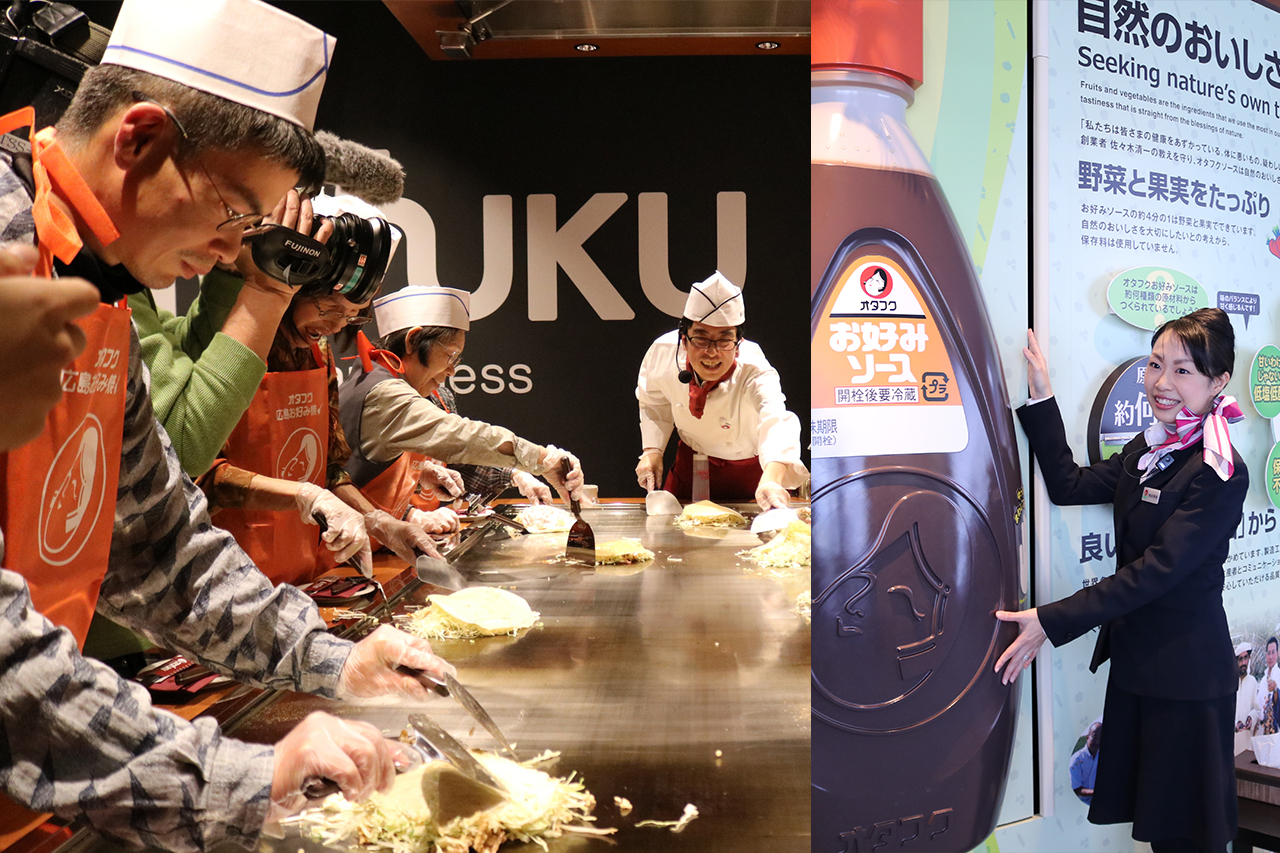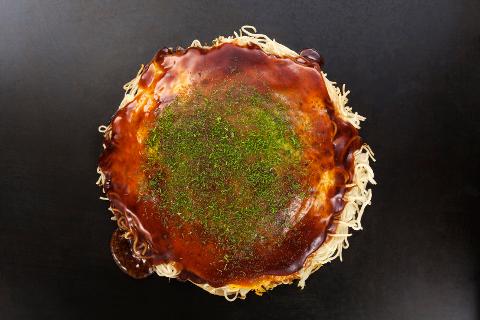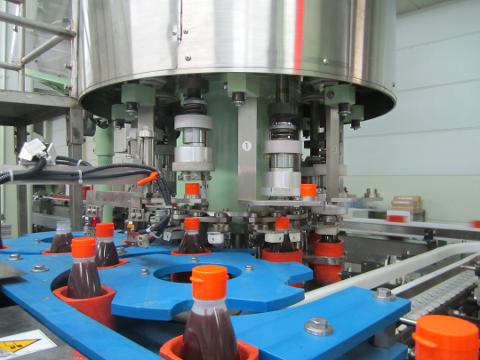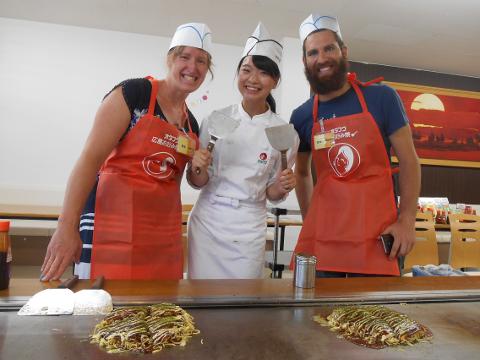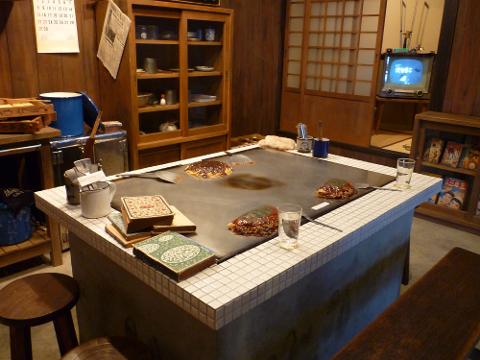 Duration: 90 Minutes (approx.)
Location: Hiroshima, Hiroshima
Product code: EN-HSM-4012-40122
【OUTLINE】
Indulge in Hiroshima food culture and cook your own okonomiyaki. In this program, you will be introduced to the authentic Hiroshima-style okonomiyaki, the culinary specialty of Hiroshima and the ultimate staple of Japanese cuisine. The staff from the Otafuku Sauce Co. will teach you some tips to cook the okonomiyaki. Also, this plan will take you around the okonomiyaki sauce factory, and the Okonomiyaki Museum with a complete guide, where you will gain deeper insight into the ways in which the okonomiyaki symbolizes Hiroshima's recovery from the atomic bombing.

【HIGHLIGHTS】
Enjoy a sensational okonomiyaki-cooking program, gain deeper insight into Hiroshima's cultural heritage, and master the technique of Japanese cuisine on a "teppan" (griddle).
Experience the unique Hiroshima-style okonomiyaki!
Tour around the Okonomiyaki Museum and the sauce factory, you will learn the parallel between the aftermath of the atomic bombing and Hiroshima's food culture.
This is a special plan developed by a worldwide manufacturer of savory Japanese condiments, Otafuku Sauce Co. Sample the various sauces available!
Traditional dishes sit alongside well executed set menus, with favorites including seasonal desserts, culinary oysters, and three drinks you like (including the craft beer only for this plan!).
Complementary gifts include stylized bandanas and aprons where made in the image of Japanese samurai.
Direct connection to Shinkansen lines / 2 minute walk from Hiroshima station.
【SCHEDULE】
●DAY1
13:00~ Starting experience in OKOSTA
13:40~ Meal
14:30  Finish
14:30~ Free time (you can enjoy shopping and a sauce bar !)
●DAY2
~9:50  Reception in the lobby
10:00~ Guided tour
~11:30  Finishing
【DETAILS】
Experience the essence of Japan with a gourmet food tour and immerse yourself by making your own okonomiyaki (Japanese 'soul food' and the culinary specialty of Hiroshima). Hiroshima is home to 1,600 okonomiyaki shops and is known as the prime okonomiyaki city in Japan. In this program, you will learn the basics of cooking the okonomiyaki unique to Hiroshima. You will make okonomiyaki by putting ingredients such as cabbage, tempura crisps, green onions, bean sprouts, porks, noodles and an egg in a layer on the teppan without mixing it and topping it with sauces and condiments. The sweetness of the cabbage perfectly matches the taste and the noodles will make you full just with a piece of okonomiyaki.
After cooking your okonomiyaki, enjoy it with the sauce made by the Otafuku Sauce Co., a worldwide manufacturer of savory Japanese condiments. You will be able to try 8 types of sauces at the showroom.

You can choose the toppings for your okonomiyaki from four flavors and you can enjoy oysters, desserts, and three drinks (including the craft beer) while eating your okonomiyaki. Veggie filled okonomiyaki is a great choice for health conscious people as well!! In addition, it is friendly for Muslim and Vegetarian visitors.

Hiroshima-style okonomiyaki has a deep relation to the history of the atomic bomb. In this plan, you will look around the Okonomiyaki Museum and the Otafuku Sauce factory with our guide. You will gain insight into the heritage of Hiroshima's representative dish which is deeply connected with the city's reconstruction.

The Wood Egg Okonomiyaki place used at for plan is located between the three world heritage sites. They are great places to check out after you are down with our experience.

【THINGS TO NOTE】
Time:
【Okonomiyaki-cooking experience】90 minutes
【Guided tour】90 minutes(Please note that the tour is available the day after the Okonomiyaki-making experience, in a separate location)
Meeting point:
【Okonomiyaki-cooking experience】OKOSTA
1-2, Matsubaracho, Minami-ku, Hiroshima-City, Hiroshima, 732-0822, Japan
【Guided tour】Wood Egg
7-4-5, Shoko center, Nishi-ku Hiroshima-City, Hiroshima, 733-0833, Japan  

Access:
【Okonomiyaki-cooking experience】Directly connected to Hiroshima station of Shinkansen · 2 minutes on foot
【Guided tour】
・5 minutes by taxi from JR Shin-Inokuchi station(or 25 minutes walk, 8 minutes by Hiroshima Bus from the station)
・10 minutes walk from Hiroden Inokuchi station
・About 10 minutes walk from Shakkeien
・About 15 minutes walk from Hiroshima castle

Language support:Japanese, English
Included: Okonomiyaki making the experience, seasonal desserts, culinary oysters, three drinks you like(including the craft beer only for this plan!), Stylized bandanas and aprons that image the Japanese samurai
Participation requirements:
6 years of age and over
Under 10 years old must be accompanied by an adult (1 adult per 1 child)
Free Wi-Fi:〇
Toilet:〇(Western style) 2 minutes from the OKOSTA, in the "ekie" shopping center
Other things to note:
・A tour option at Wood Egg is limited for people who have OKOSTA experience from Monday to Thursday.
・Optional tours may not have an English guide. In that case, the Japanese staff will guide you while using the English guide application.
・Due to event etc., the date and time of holding may differ or may not be implemented.
・The schedules might be canceled because of the weather, disasters and any other reasons.
【HEALTH AND SAFETY MEASURES】
・Face masks required for travelers in public areas
・Face masks required for guides in public areas
・Hand sanitizer available to travelers and staff
・Social distancing enforced throughout experience
・Gear/equipment sanitized between use
・Guides required to regularly wash hands
・Regular temperature checks for staff
・Temperature checks for travelers upon arrival
【FUN FACTS】
~The historical background of Hiroshima and Hiroshima-style okonomiyaki ~
・Hiroshima-style okonomiyaki was created after the atomic bomb was dropped on Hiroshima. It was cooked with a little bit of flour which was provided with foreign aid and cabbage and bean sprouts which were very cheap. Okonomiyaki was created while people were recovering post-war.

・Since Hiroshima was known for their steel industry, general people were able to easily get griddles. This made it easy for okonomiyaki to gain popularity.

・Some women opened okonomiyaki stores after they lost their husbands and they assisted the Hiroshima-style okonomiyaki boom.

【NEARBY AREA INTRODUCTION】
Blessed with beautiful scenery and the grandeur of its natural landscapes, take a guided tour around Hiroshima City, home to the A-Bomb Dome and Itsukushima Shrine; the two world heritage sites, and overlook the gentle waves approaching the neighboring islands in the distance.
【CANCELLATION POLICY】
7 to 4 days before the tour date 30% of the tour price
3 to 1 day before the tour date 60% of the tour price
The day of the tour date 100% of the tour price
※Right after the online settlement is made, a cancellation fee of 10% will be incurred in case of cancellation.
※The cancellation fee includes handling charges.