【Raizin】Private Lodging at Satoyama in Minamisanriku-cho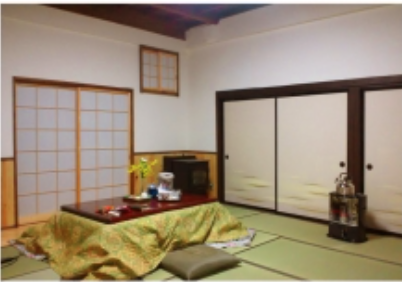 Duration: 3 Days (approx.)
Location: Minamisanriku-cho, Miyagi
Product code: EN-MYG-7054-70540
【OUTLINE】
The Yamauchi's residence is situated on the mountainside of Minamisanriku-cho. It is a clean and spacious annex built next to the main house. Please enjoy meeting, mingling, and chatting with the local people in Satoyama, the woodland close to the main village.


【HIGHLIGHTS】
Stay at a private lodging located in Sodehama District in the Minamisanriku-cho Shizugawa area.
Enjoy meals made of seafood caught by the father, vegetables taken care of and grown by the mother, and cooked by their daughter. While having meals and chatting with them, you will feel at home with their warm hospitality.
Fully enjoy the charm of Satoyama full of many activities such as traditional crafts and nature experiences.


【PRICES】
63,525yen (Tax included)

【SCHEDULE】
◆Day 1
From home/the former accommodation・・・〈Paid by the customer〉・・・10:00 Meet at JR Sendai Station and go to Minamisanriku・・・12:00 Lunch ('Kirakira Don,' a local specialty of Minamisanriku)・・・13:30 Prayer at the Buddhist temple ・・・15:00 Fisherman's experience・・・18:00 Check-in at the accommodation・・・19:00 Dinner (Local dishes, the pride of Minamisanriku)・・・Stay overnight
◆Day 2
7:00 Up・・・8:00 Breakfast・・・9:00 Trekking・・・13:00 Lunch (BBQ)&Visit a sheep farm・・・15:00 Sea kayaking・・・17:00 Back to the accommodation・・・19:00 Dinner (Local dishes, the pride of Minamisanriku)・・・Stay overnight
◆Day 3
7:00-9:00 Breakfast・・・10:00 Check-out and go to Sendai・・・12:00 The tour ends at Sendai Station・・・〈Paid by the customer〉・・・To home or the next accommodation
【DETAILS】
1. Kirakira Don is a local specialty of Minamisanriku-cho.
Kirakira Don is a bowl of rice heaped with rich seafood of the season. The season's best gifts from the sea are selected for this great dish. Kirakira Don is one of the best comfort foods in Tohoku!
2. Pray at the temple
You can also visit a famous temple in the Tohoku area with a history of over 500 years and that is worshiped by the locals. The renowned Buddhist priest will pray for good health, safe trip, and protection from evil.
3. Fisherman's experience
The sea of Minamisanriku-cho is a rich repository of seafood. You can observe experienced fishermen go scallop farming and taste scallops fresh from the sea. The captain will show you to especially good fishing spots where even beginners can catch fish. Receiving kind guidance from him, you could nab a big catch!
4. Trekking
You will also be shown to the sacred Mt. Tatsugane. Mt. Tatsugane is a mountain with miraculous virtue that commands an extensive view of Minamisanriku-cho's coast. Along the mountain trail of Mt. Tatsugane, called Gyoja no michi or "the route for the ascetic," you will see two waterfalls, Kumodak and Anadaki. You will be fascinated while trekking in the rich nature amongst the seasonal flowers.
5. BBQ & sheep farm visit
The local sheep farm named Satoumi Farm is brimming with nature. They ship only 10 sheep a year to exclusive restaurants. You may enjoy BBQ including rare mutton as well as the locally-made vegetables, pork, and chicken.
7. Sea kayaking
You can try kayaking on the sea of Minamisanriku-cho. Even a beginner can easily operate the kayak. While feeling the sea breeze, enjoy the beautiful scenery of Minamisanriku-cho from out at sea.
【ACCOMMODATIONS】

Go-no-sato RAIZIN (240, Iriya Yamanokamidaira, Minamisanriku-cho, Motoyoshi-gun, Miyagi-ken)
ーーーーーーーーーーーーーーーーーーーー
Check-in :15:00/Check-out :10:00
【Room】
Japanese-style room with 8 tatami mats for 4 people×1(35㎡), for 3 people×1(30㎡)
【Bath】
Shared
【Restrooms】
Shared, western-style
【Meals】
To be cooked and eaten together
※If you have any food allergies, please let us know in advance.
【Amenities/toiletries】
Air conditioner/heater・TV・face towel・bath towel ・yukata (dressing gown) ・soap
【Others】
Smoking is allowed/free parking
【THINGS TO NOTE】
Time:3 days
Least participants:2 people (Maximum 7)

Meeting point:JR Sendai Station
We will meet you in front of the stained glass on the 2nd floor of JR Sendai Station West Exit, holding a signboard.
Tour conductor for 24 hours:None (A local guide will help you)
Accompanying National Government Licensed Guide Interpreter or Local Licensed Guide Interpreter:None
Language support:English
Meals (included in a tour fee):〇(Breakfast:2, lunch:2, dinner:2)

Included :Experience fee・lodging charge and meals stipulated in the itinerary ・local taxes such as consumption tax
Excluded:Expenses such as transportation not specified in the course and those of a personal nature.
Participation requirements:7 years old and over
Free Wi-Fi: 〇

Toilet: 〇(Western-Style)


【TOUR TERMS AND CONDITIONS】
Before booking the tour, please confirm the Tour Terms & Conditions and save the document.
Check [TOUR TERMS AND CONDITIONS](Japanese)


【TOUR PLANNER AND CONDUCTOR】
Regional Branding Institute Co., Ltd.
Aqua Terrace UⅡ Bldg. 8F, 2-20-3 Kaminarimon, Taito-ku, Tokyo, 111-0034
Travel Agency registered with a Tokyo Governor 2-7547
A regular member of All Nippon Travel Agents Association



【CANCELLATION POLICY】

20 to 8 days before the departure date of the tour 20%
7 to 2 days before the departure date of the tour 30%
The day before the departure date of the tour 40%
On the day of the departure date of the tour 50%
After the tour departed, No show 100%