Nagoya Kimono Old Town Walking Tour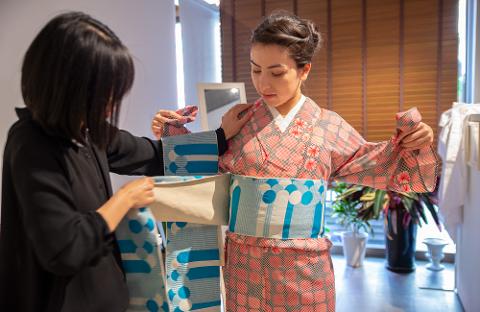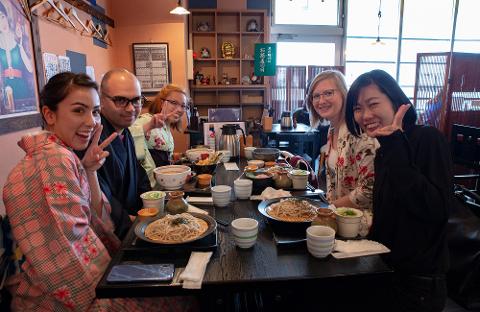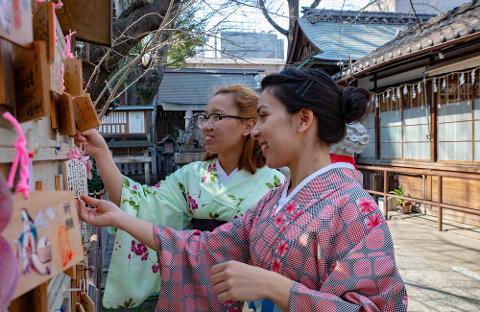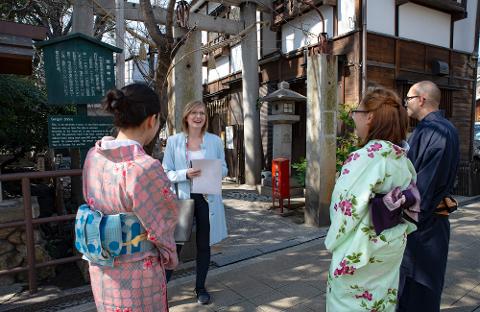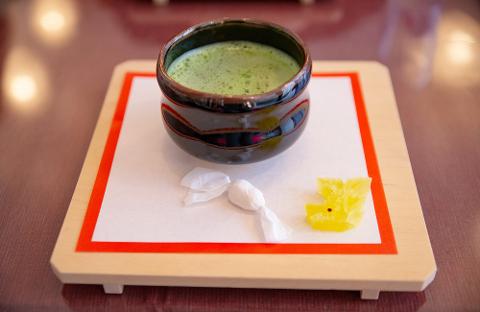 Duration: 210 Minutes (approx.)
Location: Nagoya, Aichi
Product code: EN-AIC-7206-72063
【OUTLINE】
Step into Japan's past wearing a beautiful traditional Kimono and exploring the oldest parts of Nagoya. Try delicious Soba noodles and locally grown Matcha green tea while gaining an understanding of Nagoya's past and culture.


【HIGHLIGHTS】
Wear a traditional Kimono and explore the neighborhood dressed up.
Eat lunch at a typical local restaurant where you will enjoy delicious Soba noodles. (vegetarian and vegan friendly options available)
Visit the old merchants' district Shikemichi, the oldest part of Nagoya.
Decorate your own Japanese paper lantern and take it home with you as a souvenir.
Drink locally-grown Matcha Green Tea with some sweets.
【SCHEDULE】
[00:00] Meet your guide at Kokusai Center Station just one stop from Nagoya Station.
[00:10] Wear a traditional Japanese Kimono and learn about the different parts and their significance. You will also be instructed on how to walk, stand, sit, and go to the toilet.
[00:40] At a typical local Soba shop, learn about table manners and enjoy a delicious Soba noodle lunch.
[01:40] Shrines and temples will no longer be a mystery to you after visiting Sengen Shrine.
[01:55] Learn why this almost 300-year-old merchant's district is still around today and admire the architecture and ingenuity of the Japanese people of old.
[02:10] The oldest shopping district of Nagoya has seen better days but it is still charming with old next to new.
[02:25] Decorate a simple Japanese paper lantern at a local paper lantern shop and enjoy Matcha Green Tea with some sweets produced in the region.
[03:25] On your way back you will get another opportunity to take beautiful pictures in a Japanese setting before the spell is over and you transform back into your usual self by changing out of your Kimono. The tour is over but the pictures and memories will last you a lifetime.


【DETAILS】
We don't know about you, but when we first arrived in Japan we used to look longingly at the Japanese ladies (and men) wearing beautiful Kimono. If you are the same, the 'Nagoya Kimono Old Town Walking Tour' will satisfy that particular longing.
You won't be able to recognize yourself once you have been dressed in a traditional Japanese Kimono. The Kimono is very restrictive, and even though it might be harder now to sit down, or even walk, it gives you a beautiful posture and changed atmosphere.

At the local Soba shop close by you will be tempted to overeat on the delicious hot or chilled Soba noodles served. Japanese table manners and the background story of Soba are also on the program.

Filled with new energy it is now time to explore the oldest neighborhood of Nagoya, Shikemichi, with its wide street, white row houses and old shrines. You will love the picturesque surroundings and the many opportunities to take pictures for the family album (or Instagram depending on your generation).

The oldest shopping street of Nagoya is Endoji which you will visit next. Here you will find the old next to the new. Shrines and temples that have been here since the beginning of Nagoya next to sandwich shops and bouldering gyms. Who ever said Nagoya was boring?

Once your feet are tired (from posing for so many pictures) you will get your needed rest and give your hands something to do. Decorate your own Japanese paper lantern and enjoy the most Japanese drink there is: Matcha green tea. This particular Matcha has been grown in the region.

After a couple (of hundred) more pictures it is time to transform back, into your old self. But you will have changed, no doubt, gained a new perspective on Nagoya and a new appreciation for your comfortable jeans and sneakers.

【THINGS TO NOTE】
Time:3.5 hours
Meeting point:Kokusai Center Station (Sakura-douri Line of Nagoya Municipal Subway)
Meieki, Nagoya Nakamura-ku, Nagoya, Aichi 450-0002
Access:
[From JR Nagoya Station]
・2 minutes by a train of Sakura-douri Line bounds for Tokushige Station.
・8 minutes by walk on Sakura-douri Street.
Language support: English, German
Included:Tour Guide, Kimono experience, Lunch at a typical Japanese restaurant, Japanese paper lantern making experience, Nishio Matcha green tea.
Excluded:Transportation to and from the tour.
Participation requirements:
・Accessible for participants with strollers.
・We can only accommodate people with a hip circumference of 150 cm (59 inches) or less.
・We can only accommodate people with a height of 175 cm (69 inches) or less.
・If you or your child is shorter than 140 cm (55 inches) please let us know the exact height at the time of booking.
・We can only provide Japanese shoe size 22 – 25.5.

Free Wi-Fi :No
Toilet (Western-style):Yes
【HEALTH AND SAFETY MEASURES】
・Face masks required for travelers in public areas
・Face masks required for guides in public areas
・Face masks provided for travelers as needed
・Hand sanitizer available to travelers and staff
・Social distancing enforced throughout the experience
・Guides required to regularly wash hands
・Regular temperature checks for staff
・Temperature checks for travelers upon arrival
・Paid stay-at-home policy for staff with symptoms
【CANCELLATION POLICY】
7 to 4 days before the tour date 40% of the tour price
3 to 2 days before the tour date 60% of the tour price
The day before the tour date, on the day of the tour 100% of the tour price
※Right after the online settlement is made, a cancellation fee of 10% will be incurred in case of cancellation.
※The cancellation fee includes handling charges.