Mt. Karakunidake Volcano View Trekking Tour with Geo Guide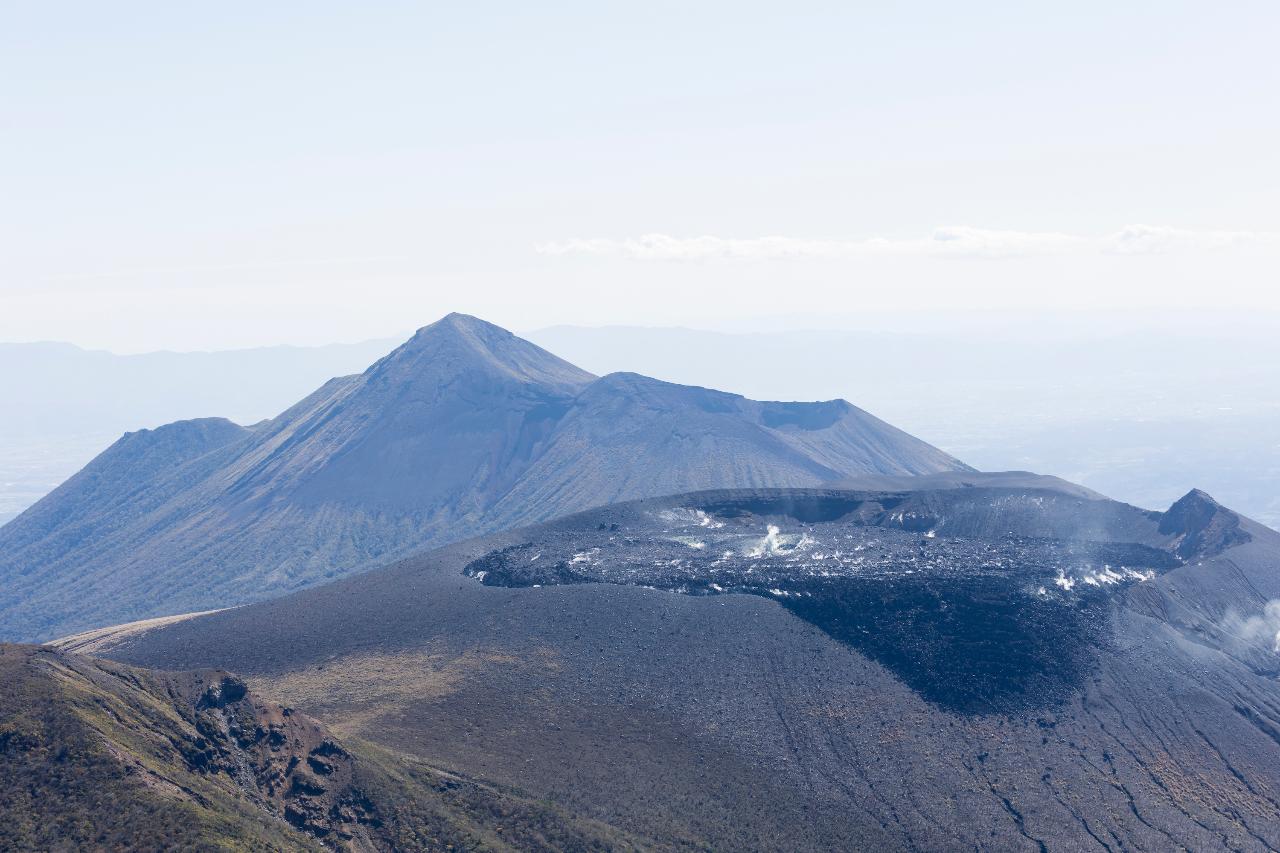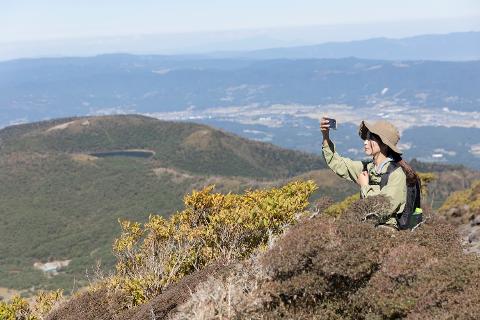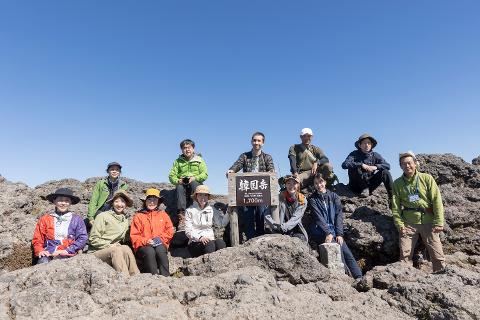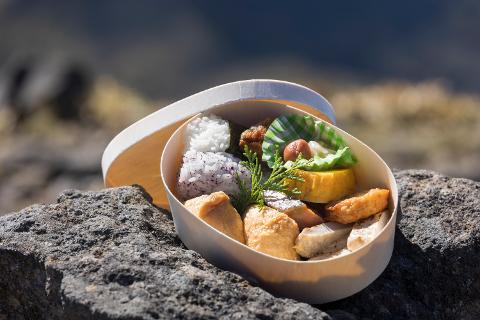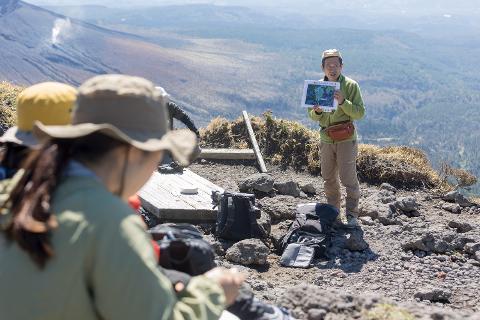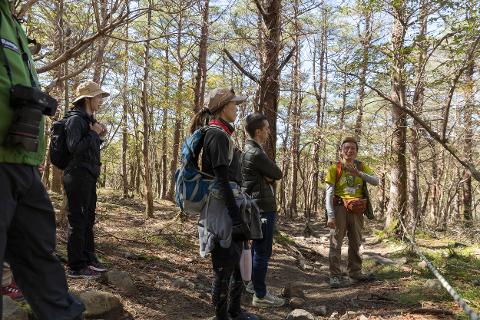 Duration: 6 Hours (approx.)
Location: Ebino-shi, Miyazaki
Product code: EN-MZK-7275-72751
【STORY】
Karakuni-dake, a 1,700-meter-high mountain that straddles Miyazaki and Kagoshima prefectures, offers a dynamic view of the Kirishima mountain range, including Mt. Shinmoedake, which continues to emit volcanic smoke, where you can experience firsthand the workings of the earth.
The rain that falls on the land is stored underground under the volcano over many years and supports the local people's lives by providing famous water and hot springs.
Mr. Takada, a geo guide who has accumulated experience in Kagoshima's nature, will introduce the origin of Mt. Karakunidake and the benefits it gives to people's lives.

●Do volcanoes produce high-quality water and lead to the production of delicious rice?
●How was the suburb view from the Mt. Kirishima created?
●The history and present day of the crater that released plumes of smoke.

This is a special trekking tour where you can learn about the historical background and the lives of people who coexist with the volcano, which cannot be known without a guide, along with the spectacular scenery woven by the volcano.

【HIGHLIGHTS】
[Amazing! Experience the magnificent nature] Enjoy the view of the active volcanic creator and the nature of the Mt. Kirishima from the summit.

[Inspiring! Learning the story of volcanoes] Learn the story of the volcano from a local geo guide; such as the origin of the volcano and the blessings it gives to people.

[Delicious! Enjoying nature's bounty of local food]At the top of the mountain, enjoy a local lunch box with the delicious air of nature while overlooking Mt. Kirishima.

[Thank you! Thank you for the coexistence of nature and mankind]Experience the beautiful nature and help preserve it by picking up any trash you find on the way down the mountain.



【SCHEDULE】
[8:30] Meet at the Ebino Kogen Eco Museum

[9:00] ●Introduction
Geo guide self-introduction, precautions, and explanation of Mt. Karakuni.
After warming up, we will depart.

[9:30] ●Trekking
Geoguide Mr. Takada will introduce the story of the origin of volcanoes and the blessings that volcanoes bring.

[11:30] ●Summit lunch
While looking out over Mt. Kirishima, enjoy a bento box made with local ingredients.

[12:30] ●Trekking
While enjoying the scenery of the volcanic belt that changes on the way back, descend the mountain.

[14:00] After arriving at the Ebino Kogen Eco-Museum, the tour ends.



【EXPERIENCE SUPPLEMENTARY INFORMATION】
●About the route:
The round trip route is the same, but the route can be adjusted according to the physical strength of the participants.

●Climbing level:
Beginners can also participate, but trekking involves a certain amount of danger, so it is preferable to have some mountaineering experience.

●Day-trip hot spring:
About a 5-minute walk from the tour finishing spot, there is a day-trip hot spring.
If you wish, visit to relax your muscles after a day of hard work! *Day trip hot spring fee is not included.
https://ebinokogenso.com/spa/

●Environmental conservation:
Make use of the plastic bags in your lunch box and pick up any trash along the way as you make your way down the mountain.
【THINGS TO NOTE】
Duration:5.5 Hours
Meeting point:Ebino Eco Museum Center [MAP]
1495-5, Suenaga, Ebino-shi, Miyazaki, 889-4302

Access:
■From airports
1h 30 by car from Miyazaki Bougainvillea Airport (via expressway)
1h from Kagoshima Airport (via expressway)

■By rail
1h from Kagoshima Chuo Station to JR Kirishima Jingu Station
1h from Miyazaki Station to JR Kirishima Jingu Station
30 mins by bus from Kirishima Jingu Station to Maruo

■From Expressway interchanges
From Miyazaki City: 45 mins by car from Kobayashi IC
From Kagoshima City: 1h 20 by car from Kagoshima IC
From Kumamoto City: 40 mins by car from Ebino IC

■By the Kirishima area Tour Bus
30 mins from Maruo to Ebino Plateau


Language support:Japanese, English (optional)
*An English guide will be available for reservations made after May 2023.

Included:
・Geo guide fee
・Lunch box
・Insurance

Excluded:
・Drink fee
・English guide fee (optional)

Items to bring:
・Rucksack or Bag (about 15L)
・Gloves (things with high heat retention other than work gloves)
・Snacks (chocolate, etc.)
・UV cut sunglasses
・Drink (500ml x 2 bottles)
* Please prepare one bottle of water for use as disinfectant water.

Clothes:
■Mountain temperatures change easily, and it is necessary to regulate your body temperature, so we recommend three layers of clothing.
(1) Base layer (underwear, etc.)
Something that absorbs sweat quickly, dries quickly, and has a high proportion of synthetic fibers. Cotton products are not allowed.
Depending on the temperature, it can be a heat insulator.
(2) Middle layer
Wear during action. A shirt made of synthetic fibers that dry quickly and has good breathability is recommended.
This also includes things you put on when it's cold.
(3) Outer layer
*Required even during good weather.
Rainwear and cold weather gear to protect yourself from wind, rain, and cold.
Rainwear should be made of non-stuffy material such as Gore-Tex.

<Shoes> Climbing shoes are preferable, but shoes that you normally use for exercise are also acceptable.
<Hat> A wide-brimmed hat that can block ultraviolet rays is desirable.
<Gloves> Gloves with high heat retention such as wool. However, working gloves cannot be used in the rain because they do not retain heat.


Free WI-FI:No
Toilet:No
Other things to note:
● Regarding the bathroom:
We recommend using the one available at the meeting place before departure. Portable toilets are sold at the Ebino Eco Museum.

●Notes on participation:
Please confirm the following terms and conditions before participating in this tour.
Please note that if you do not agree with the contents, you will not be able to participate.
Click here for the Terms of Participation PDF.

● About insurance:
This tour is covered by accident insurance.
If you wish to have insurance other than those listed above, we recommend that you purchase voluntary travel accident insurance.
In addition, please note that expenses incurred due to your own illness or chronic illness are not covered by insurance and will be borne by you.

●Regarding the decision to cancel the tour due to bad weather:
If there is a weather warning or if trekking on Mt. Karakunidake is difficult that day due to natural conditions, you can choose to cancel with a full refund or change the meeting place and route for the same amount.
Please select the check box when applying.

Also, if the weather suddenly changes during the tour and there is danger in the implementation, the tour may be canceled at the discretion of the guide.
In this case, please note that the fee cannot be refunded.



【HEALTH AND SAFETY MEASURES】
・Face masks required for travelers in public areas
・Face masks required for guides in public areas
・Regular temperature checks for staff
・Paid stay-at-home policy for staff with symptoms
・Contactless ticket redemption


【CANCELLATION POLICY】
The day before the tour date: 10% of the tour price
On the day of the tour: 100% of the tour price
※Right after the online settlement is made, a cancellation fee of 10% will be incurred in case of cancellation.
※The cancellation fee includes handling charges.