A plan to observe the morning practice of the sumo wrestles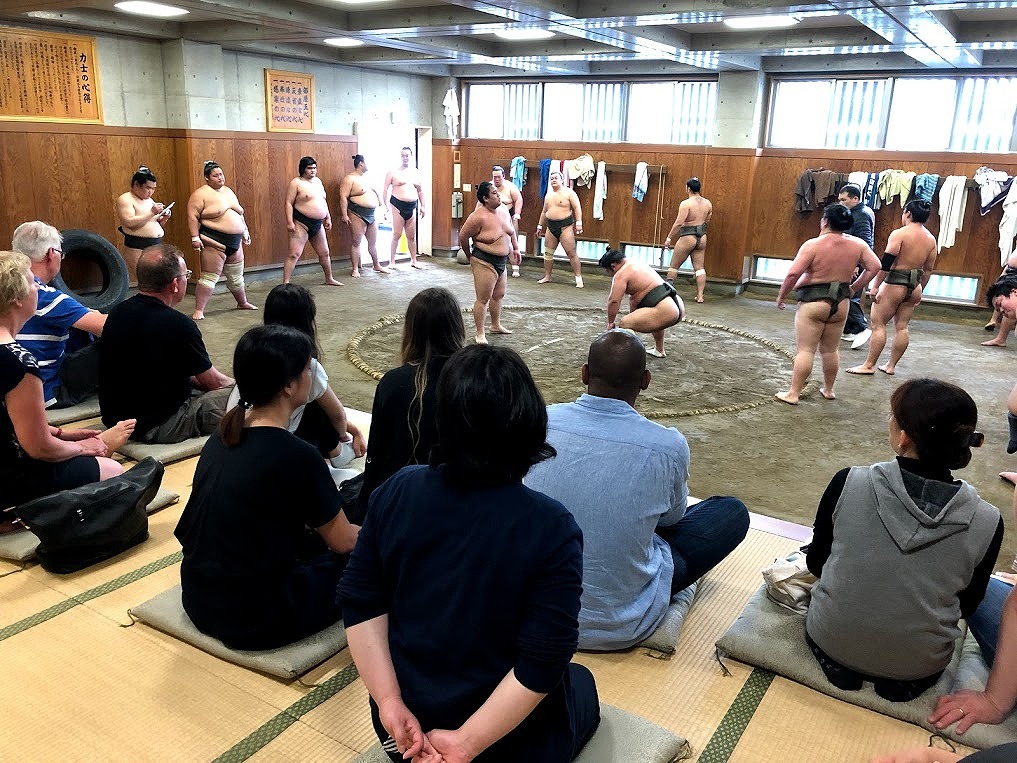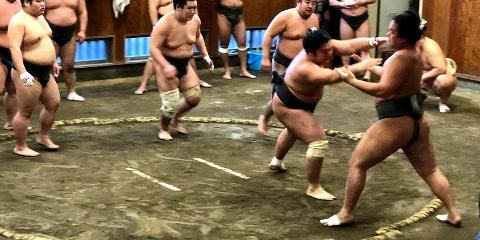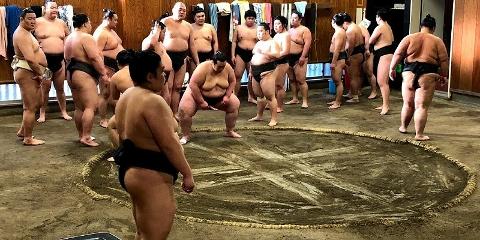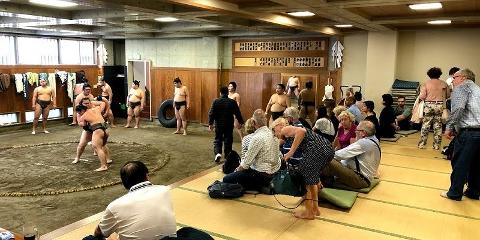 Duration: 90 Minutes (approx.)
Location: Sumida-ku, Tokyo
Product code: EN-TKO-1075-10752
【STORY】

■ Overview
Watching a grand sumo tournament is an impressive experience, but have you ever considered observing a sumo practice session at a sumo stable to feel the power up close? This experience allows you to interact with real sumo wrestlers during their morning training and truly experience the authentic world of sumo.

■ Morning Practice (Asa-geiko)
Morning practice refers to the sumo training sessions held in the morning, as the name suggests.
Sumo wrestlers dedicate this time to sharpening their skills, training their minds, and focusing their concentration at its peak.
The practice session, where the stablemaster and all the wrestlers gather, only takes place in the morning.
Therefore, everyone is serious and the atmosphere is highly sacred. Sumo itself has a history dating back approximately 1500 years and was originally a ritual performed as an offering to the gods.
The mawashi (loin cloth) worn by the yokozuna (grand champion) during their dohyo-iri (ring-entering ceremony) features a shimenawa (sacred rope) often seen in shrine sanctuaries, symbolizing the yokozuna as a divine being.
Morning practice in this sacred sport of sumo places great importance on etiquette, making it an extremely valuable experience to observe.

■ Reasons why we can offer this sacred morning practice observation
In recent times, there has been an increase in issues such as misconduct and breaches of etiquette by visitors during practice sessions.
The main reason for these problems is the lack of understanding of the unique rules of sumo stables, even among accompanying Japanese individuals.
As a result, some sumo stables have prohibited practice observation by the general public due to such issues.
Our staff members, being former sumo wrestlers themselves, have earned the favor of sumo stable personnel, treating us like family.
When you visit, our staff will accompany you, ensuring that you can observe the practice with peace of mind, have an enjoyable experience, fully understand the rules, and take part in communication, including asking questions to the wrestlers.
We will also assist with commemorative photos alongside the wrestlers, allowing you to not only feel the intensity of the wrestlers' clash up close but also engage in meaningful interactions after the practice session.

【HIGHLIGHTS】
Get up close and personal with real sumo wrestlers during their morning practice.
Be accompanied by a former sumo wrestler.
We will inform you about the rules and manners when visiting in advance.


【SCHEDULE】
[8:00] Sumo practice visit (30 to 120 minutes *changes depending on the day)
[9:30~10:00] End

*Please note that the content and start time of the tour may change depending on the status of each sumo ring and the physical condition of the wrestlers.

*Please note that the practice time will be shorter after the holidays.



【DETAILS】
Sumo wrestling is both a spectator sport and a sacred traditional event.
Even though morning practice is practice, they are not allowed to relax.
When visiting, there are rules and instructions for each room, so be sure to follow them.。

<Basic Precautions/Rules>
・Private conversations are strictly prohibited.
・Please sit on the floor when observing the rehearsal.
 It is forbidden to put your feet up while observing. (Please sit cross-legged, seiza(heel sit), gym sitting(sit with your knees up))
・Regarding the order of seats, it is not based on the order of arrival at the meeting place.
 Please note that you cannot select your seat.
・Photography is allowed, but flash is prohibited.
 Video shooting is prohibited. *If you shoot a video even once, you will be asked to leave.
 (Photography may not be allowed in some sumo stables)
・Please turn off your mobile phone or put it in silent mode.
・Parents must strictly observe the precautions for children.
・Please note that if you make a lot of noise or do not follow the precautions, you may be asked to leave.
・The rules for visiting different sumo stables differ.
 Please be sure to follow the instructions of our staff and refrain from arbitrary actions.
・Please note that those who do not comply with the above may be asked to leave.
・Please note that refunds will not be given if you leave in the middle.
【THINGS TO NOTE】
Time:30 to 120 minutes *Varies depending on the day
Meeting point:It depends on the date of the event.
There are 5 sumo rooms in total.
We will inform you of the meeting place one week before the event, as it will change depending on the holding and availability.
*Sumo rooms are located in Sumida-ku, Taito-ku, Ota-ku, and Bunkyo-ku areas.
Access:We will inform you along with the meeting place.

Language support:Japanese, English
Included:
・Morning practice viewing fee
・Sumo stable gratuity
・Sumo wrestlers gratuity
・Our local staff, Attendance fee
Excluded:
・Meal (chanko(weight-gaining stew for sumo wrestlers)is not included)

Participation requirements:
・Wearing a mask is mandatory.
・Free for children up to 3 years old. Fees will be charged from 4 years old.
・There is no child price. (Children are not allowed to visit by themselves)
・Although it is a minimum of 2 people, if you can pay the price for 2 people, you can visit alone. In that case, please contact us.
・Groups of 11 or more will be charged differently, so please inquire separately.
Free WI-FI:No

Toilet:Yes
Other things to note:※Please be sure to read in advance※

・This plan is a request reservation.
 After completing the advance payment, you will be able to apply, but you may not be able to reserve your requested day due to seat restrictions.
 In that case, please note that we will offer a different date or a full refund.

[Advanced reservation - day of reservation]
・There are several sumo rooms. We will send you advance information one week in advance, so please confirm the meeting place.
・Please note that it is not possible to select a sumo room.

[During observation of morning practice]
・Wearing a mask is mandatory. Please bring one with you.
・Please note that depending on the situation of wrestlers and sumo stables, the tour may be changed or canceled even immediately before the event.
 Also, the holding time is typically 30 to 120 minutes, but it may be shorter depending on the season.
・About chair requests
 In sumo stables, it is customary to sit on the ground.
 However, for the elderly and those who have physical difficulty sitting on the floor (including those who are obese), if requested in advance, we will prepare a seat for you.
 In that case, please understand that we may not be able to prepare it depending on the rules of the sumo stable and the situation.
 ※We do not accept any requests on the day, so please be sure to check in advance.
 ※If you request a chair at the time of booking, please include the reason why you need it in your email.
・You can observe the practice with other general customers.


【CANCELLATION POLICY】

7 to 4 days before the tour date 40% of the tour price
3 to 2 days before the tour date 60% of the tour price
The day before the tour date, on the day of the tour 100% of the tour price
※Right after the online settlement is made, a cancellation fee of 10% will be incurred in case of cancellation.
※The cancellation fee includes handling charges.