Standard Plan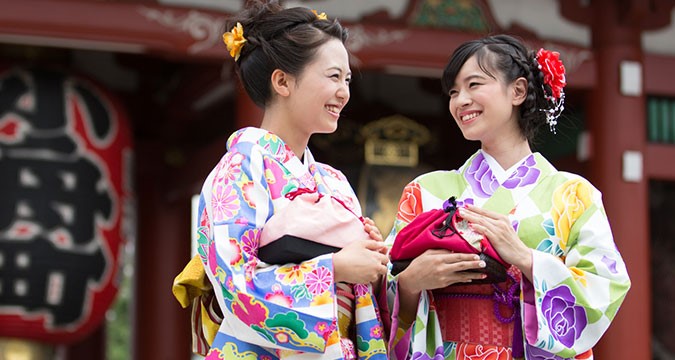 期間: 360 分 (約)
所在地: Taito-ku, Tokyo
製品コード: EN-TKO-1004-10041
*PLAN NAME
Standard Plan
*OUTLINE
The kimono we have are completely new as our store opened recently! This plan makes it possible to try kimono without any preparations. We offer genuine kimono provided by a kimono store established 80 years ago. Our store is located near Asakusa Station. Visitors can come and try without bringing anything, even on a rainy day! Enjoy walking around Asakusa, wearing a genuine kimono.
Try a beautiful kimono and have a great day in Asakusa!
※Make sure to come back by 17:00. In the case you cannot come back by 17:00, you can return the clothes the next day with an additional charge (1,500 yen). In addition, if you prefer not to return on the day, we may ask for a deposit in some cases.

*PLAN DETAILS
1.Visit
Thank you for visiting us! We offer a luggage storage service at the store for visitors with a lot of luggage.

2.Choose your favorites
First, choose your favorite kimono, obi, shoes, and accessories. We always offer more than 300 kinds of kimono. Our staff gives advice to help choose the kimono that suits you best.

3.Dressing
After picking your favorite kimono, we help you change into a kimono in a designed space. We all have experience with the dressing of a kimono. It approximately takes 20 minutes.

4.Hair styling
The dressing is followed by hair styling. Regular hair styling is included in this program and takes approximately 10 minutes. Please contact us in advance if you prefer Japanese hairstyles.

5.Enjoy walking around Asakusa
Now it is time to head to Asakusa! Please ask our staff for recommendations to make your visit to Asakusa more memorable: from major attractions to unique destinations.

6.Returning the kimono
Please return the kimono by 17:00 on the same day. (Closing time 18:00)
Please note that 1,500 yen will be charged when returning the kimono the next day.

*NOTES
【Access】
Asakusa Kirara
Imon Asakusa Bldg. 6F, Hanakawado 1-3-2, Taitou-ku, Tokyo 〒111-0033
A 1-minute walk from Tokyo Metro Ginza Line Asakusa Station

【Language】
English, Chinese

【Included】
Kimono, Juban ・Hadagi (underwear), belt, hair accessories
bag (Kinchaku), shoes (Zouri), socks (Tabi)
hair-styling, dressing

【Additional Notes】
Accessories for belts
We offer you everything needed for wearing a kimono. Please come without bringing anything.

*Cancellation Policy
7 to 4 days before the tour date 40% of the tour price
3 to 2 days before the tour date 60% of the tour price
The day before the tour date, On the day of the tour 100% of the tour price
※Right after the online settlement is made, a cancellation fee of 10% will be incurred in case of cancellation.
※The cancellation fee includes handling charges.