Wear a Kimono and Take Part in a Tea Ceremony and Calligraphy at Miyajima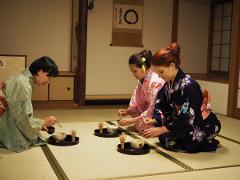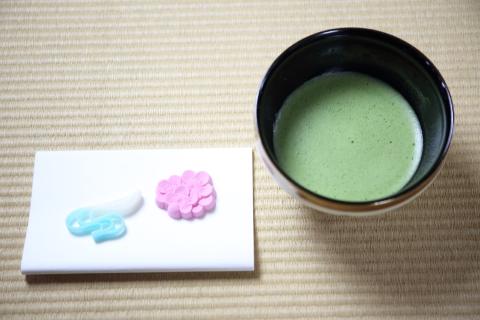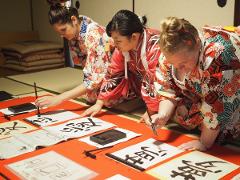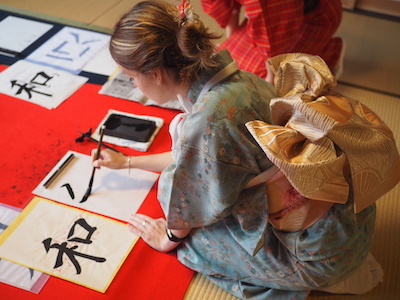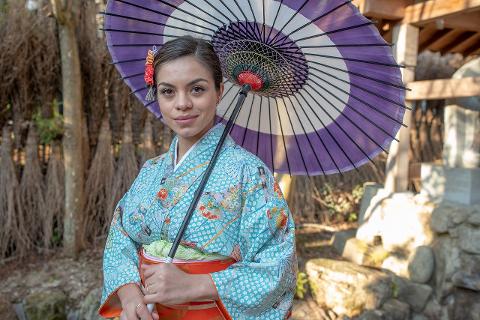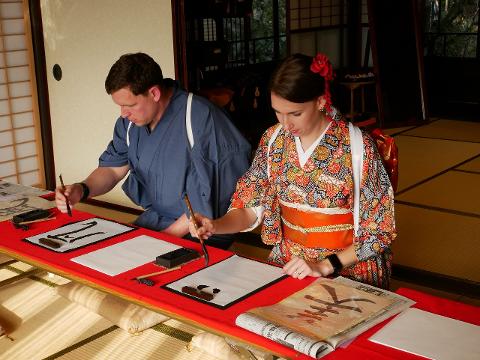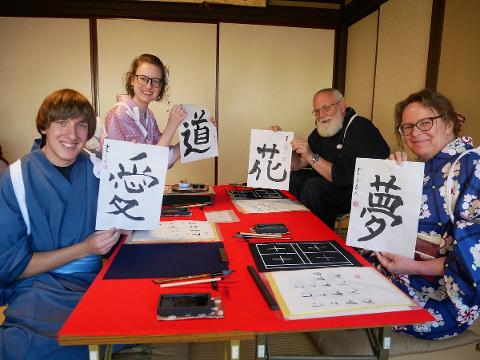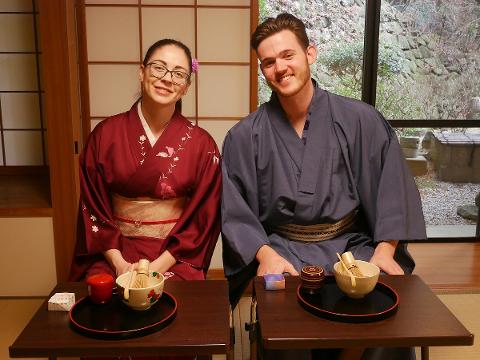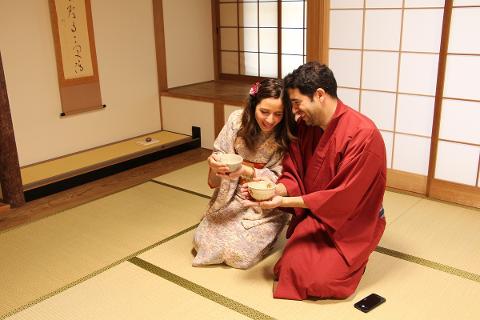 Duration: 90 Minutes (approx.)
Location: Hatsukaichi-shi, Hiroshima
Product code: EN-HSM-4007-40071
【Outline】
In this plan, you will get the opportunity to experience two Japanese cultural practices, tea ceremony and calligraphy, at Miyajima, a World Heritage Site. The experience takes 90 minutes in total and also includes free kimono dressing. We invite you to create special memories to take back home!


【Highlights】
This is a deeply cultural experience in Miyajima, a World Heritage Site.
Under the guidance of an instructor, you can experience a genuine tea ceremony in a tea room and feel the spirit of Zen.
Then, while wearing a kimono, you will get to write calligraphy on a traditional Japanese rice spoon, which is a popular local product of Miyajima.


【Schedule】
Enjoy Japanese culture in Miyajima →Tea ceremony→Calligraphy→End
【Details】
Enjoy this Japanese cultural experience in Miyajima!
You will get to experience two different Japanese cultural activities out of three lectures that Okeiko Japan offers. Each program is about 30 minutes long and the entire plan takes about 90 minutes in total. Become familiar with Japanese culture at a World Heritage site: Miyajima!
Nowadays, the spirit of Zen is highly discussed around the world. You will get to feel the spirit of Zen and learn about the Japanese culture through this tea ceremony experience and by spending some time appreciating the scenery of the zen garden, which changes with the seasons. You can also try some "wagashi", traditional Japanese sweets, with tea.
Calligraphy is very familiar to Japanese people, as everyone learns it at elementary school. As calligraphy is considered "a writing meditation," good posture, a calm mind and mental concentration are essential. You can write your favorite characters under the guidance of a kind teacher.
Finally, you can commemorate your experience with a photo of you in a kimono.
With this tea ceremony experience and calligraphy experience, you can make unforgettable memories of life in Miyajima!
【Things to note】
Time:90 min. /1 person
Meeting point:okeiko Japan [MAP]
741-1, Miyajimacho, Hatsukaichi-shi,Hiroshima

Access:
・How to get to Miyajima
After getting off at Miyajima-guchi Sta. on JR Sanyo Line, take a ferry for 10 min. from Miyajima-guchi ferry terminal.
・How to get to okeiko Japan from Miyajima ferry terminal
⑴Go straight from the ferry terminal, and go through the tunnel.
⑵Turn left at the intersection soon after the tunnel.
⑶Go straight for 100M, and turn right at the next intersection.
⑷Turn left at the next intersection.
⑸Go straight, and you will find okeiko Japan.
(It takes about 70 minutes in total from Hiroshima Station.)
Minimum number of participants:2 people

Language support:Japanese、English

Included:
・Kimono
・Tea ceremony experience
・Calligraphy experience
Participation requirements : 6 years of age and over

Free Wi-Fi:Yse

【Fun Facts】
【Spirit of Zen in Japanese culture】
The spirit of Zen has continued to increase in popularity overseas.
The origin of Zen is the Sanskrit word "dhyana," meaning "to think quietly".
The abbreviation of "Zenna" when written in Kanji is "Zen".
Today's Zen refers to Zen Buddhism, a faction of Mahayana Buddhism. Mahayana means that all creatures that have faith can be saved, and it is ultimately up to the Buddha to decide who will be saved and who will not.
Zen Buddhism doesn't place emphasis on a kind of scripture, but does aim to gain awareness of Buddha nature through training, such as "zazen" and discussions with a Master.
An Indian Buddhist monk named Daruma founded Zen Buddhism and introduced it to Japan when he traveled from China to Japan in the Kamakura period.
After being transmitted to Japan, Zen Buddhism had a great influence not only on Buddhism but also on Japan's culture.
You may notice that the names of traditional Japanese cultural practice contain the character for "road" (dō), such as tea ceremony, calligraphy, kendo, judo, archery, etc. This naming is inspired by Zen ideologies that focus on calming the mind, humbling oneself, and aiming for a high level of skill.
【Nearby area introduction】
【World heritage - Miyajima】
The official name of Miyajima is is Itsukushima. It is one of three major scenic spots in Japan and is also registered as a World Cultural Heritage Site.
The center of the scenic spot is Itsukushima Shrine, and the brilliant red hue glistening on the sea and on the shrine are hallmarks of the area's beautiful scenery.
The highest peak of the island ·
From the top of Mt. Yayama, you can view the Seto Inland Sea. This spot is incredibly popular, and every year on the very first sunrise of New Year's Day, it is crowded with people commemorating the start of a new year.
A special product from the area is Momiji Manju. It is famous as a souvenir of Hiroshima, but it actually originated from Miyajima.
You can also enjoy foods from local vendors, such as delicious chocolate and the popular "tsubuan" and "koshian" (types of red bean paste). What has recently become popular practice is putting Miyajima oysters on Hiroshima rice, wrapping it up with eel from Miyajima, putting soy sauce on it, and eating it together with "petora potara" baked in charcoal fire, and "nigiri ten" wrapped in oysters, squids and the like in fish paste.
Please enjoy exploring the charming Miyajima that features gourmet foods and souvenirs such as rice spoons and Miyajima-ware.


【HEALTH AND SAFETY MEASURES】
・Face masks required for travelers in public areas
・Face masks required for guides in public areas
・Hand sanitizer available to travelers and staff
・Gear/equipment sanitized between uses
・Temperature checks for travelers upon arrival
【Cancellation policy】
7 to 4 days before the tour date 40% of the tour price
3 to 2 days before the tour date 60% of the tour price
The day before the tour date, On the day of the tour 100% of the tour price
※Right after the online settlement is made, a cancellation fee of 10% will be incurred in case of cancellation.
※The cancellation fee includes handling charges.