Experience Tea Ceremony, Calligraphy, Japanese Cooking, and Kimono in Miyajima!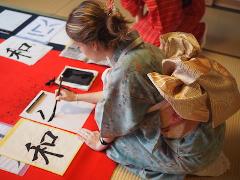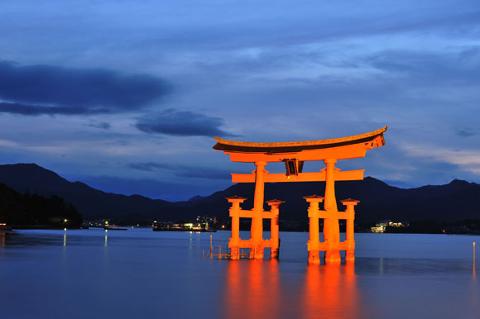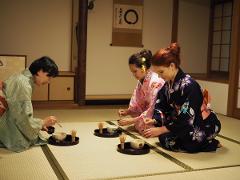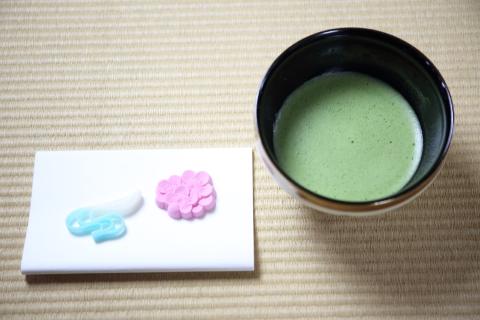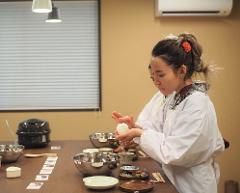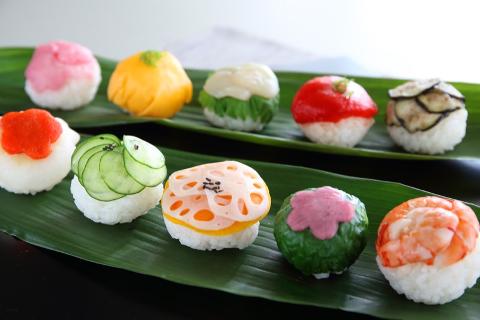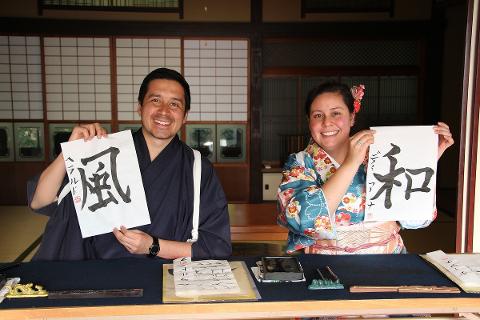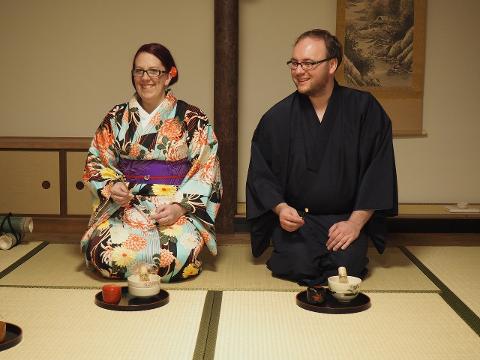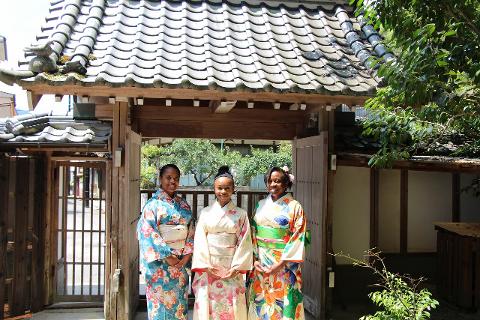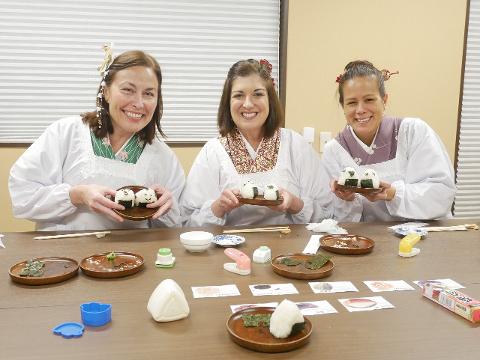 Duration: 120 Minutes (approx.)
Location: Hatsukaichi-shi, Hiroshima
Product code: EN-HSM-4007-40072
【Outline】
Enjoy a Japanese cultural experience in Miyajima, a popular sightseeing spot in Japan! We offer a rich variety of activities like tea ceremony, calligraphy and Japanese cooking. One program is 30 minutes long, so you only need 120 minutes total, including your free kimono experience. Learn more about Japanese culture in a short amount of time to make the most of every minute you have in Japan!
【Highlights】
Enjoy traditional cultural experiences in World Heritage Miyajima
Under the guidance of the teacher in a full-fledged tea room, you can experience a tea ceremony with the spirit of Zen.
Write on a traditional Japanese rice spoon (a popular local product of Miyajima), while wearing kimono.
Cook traditional Japanese cuisine which is known for being healthy.


【Schedule】
Enjoy Japanese culture in Miyajima →Tea ceremony→Calligraphy→Japanese cooking→End
【Details】
Enjoy a Japanese cultural experience in Miyajima!
You can experience 3 types of Japanese cultural programs! Each program is about 30 minutes long, and the program takes 120 minutes total! Become familiar with Japanese culture at the World Heritage site, "Miyajima!"
Nowadays, the spirit of Zen, from Japanese culture, is highly evaluated all around the world. You can feel the spirit of Zen and learn about Japanese culture deeply through our tea ceremony experience. Have a great time appreciating the scenery of our Zen garden which changes according to the season and space. Enjoy sampling wagashi, traditional Japanese sweets, with tea.
Calligraphy is very familiar to Japanese people as everyone learns it in elementary school. As calligraphy is called "writing meditation", good posture, a calm mind and mental concentration are essential. You can write your favorite characters under the guidance of a kind teacher.
Try Japanese cooking! Food is an important part of culture. "Washoku"(Japanese cuisine) is popular and known around the world for being healthy. In 2013, washoku was registered as intangible cultural heritage. In Japanese cooking, it is important to make the most of the ingredients in season and enjoy the seasonal tastes.
Japanese food culture is a compilation of wisdom of the way of living with nature. We would like to introduce Japanese culture to you through Japanese dishes.
Remember your special experience with a photograph wearing kimono!
This experience will make wonderful memories of your time in Japan.
【Things to note】
Time:120min. /1 person
Meeting point:okeiko Japan [MAP]
741-1, Miyajimacho, Hatsukaichi-shi,Hiroshima
Access:
・How to get to Miyajima
After getting off at Miyajima-guchi Sta. on JR Sanyo Line, take a ferry for 10 min. from Miyajima-guchi ferry terminal.
・How to get to okeiko Japan from Miyajima ferry terminal
⑴Go straight from the ferry terminal, and go through the tunnel.
⑵Turn left at the intersection soon after the tunnel.
⑶Go straight for 100M, and turn right at the next intersection.
⑷Turn left at the next intersection.
⑸Go straight, and you will find okeiko Japan.
(It takes about 70 minutes in total from Hiroshima Station.)

Minimum number of participants:2 people

Language support:Japanese、English

Included:
・Kimono
・Tea ceremony experience
・Calligraphy experience
・Cooking Experience
Participation requirements : 6 years of age and over

Free Wi-Fi:Yes


【Fun Facts】
【Spirit of Zen in Japanese culture】
The spirit of Zen is becoming a popular idea overseas.
The origin of Zen is the Sanskrit word "dhyana" (meaning "to think quietly").

The current Zen ideology is from the Zen sect of Mahayana Buddhism.
Mahayana means that all the creatures that have faith can be saved but in Mahayana Buddhism it should be left to Buddha to decide who will be saved or not.

In Zen Buddhism, we do not place emphasis on a kind of scripture, but we aim to have awareness of our own Buddha nature through training such as zazen and interrogation with a Master.

An Indian Buddhist monk, Daruma, founded Zen Buddhism and it came from China to Japan during the Kamakura period (1185 – 1333).
Since spreading to Japan, it became not only a faction of Buddhism but also a big influence on Japanese culture as a whole.

Traditional Japanese culture which has the character for "road" in it in Japanese, such as tea ceremony, calligraphy, kendo, judo, archery, etc., is some kind of traditional culture that calms the mind, humbly defines itself and aims at a high level and this is where you can see the influence of Zen.
【Nearby area introduction】
【World Heritage Site - Miyajima】
The official name of the World Heritage Site on Miyajima is Itsukushima. It is one of the three major scenic spots in Japan and is also registered as a World Cultural Heritage Site.
The center of the scenic spot is Itsukushima Shrine. The red color from the shrine shown floating on the sea is superb.

The view from the top of Mt. Yayama and the view of the Seto Inland Sea is also popular and every year the first sunrise of New Year's Day is crowded with people.
A special product from the area is "momiji manju". It is famous as Hiroshima's souvenir, but originated from Miyajima. You can enjoy various tastes such as chocolate as well as classic tsubuan and koshian. Recently, putting oysters from Miyajima on gluttonous rice and wrapping it eel has become popular.
Enjoy strolling in charming and eating dishes, such as, baked oysters and eel fried rice, and buying souvenirs, such as, a rice spoons and Miyajima ware etc.


【HEALTH AND SAFETY MEASURES】
・Face masks required for travelers in public areas
・Face masks required for guides in public areas
・Hand sanitizer available to travelers and staff
・Gear/equipment sanitized between uses
・Temperature checks for travelers upon arrival


【Cancellation policy】
7 to 4 days before the tour date 40% of the tour price
3 to 2 days before the tour date 60% of the tour price
The day before the tour date, On the day of the tour 100% of the tour price
※Right after the online settlement is made, a cancellation fee of 10% will be incurred in case of cancellation.
※The cancellation fee includes handling charges.