Explore Miyajima While Dressed as a Japanese Noblewoman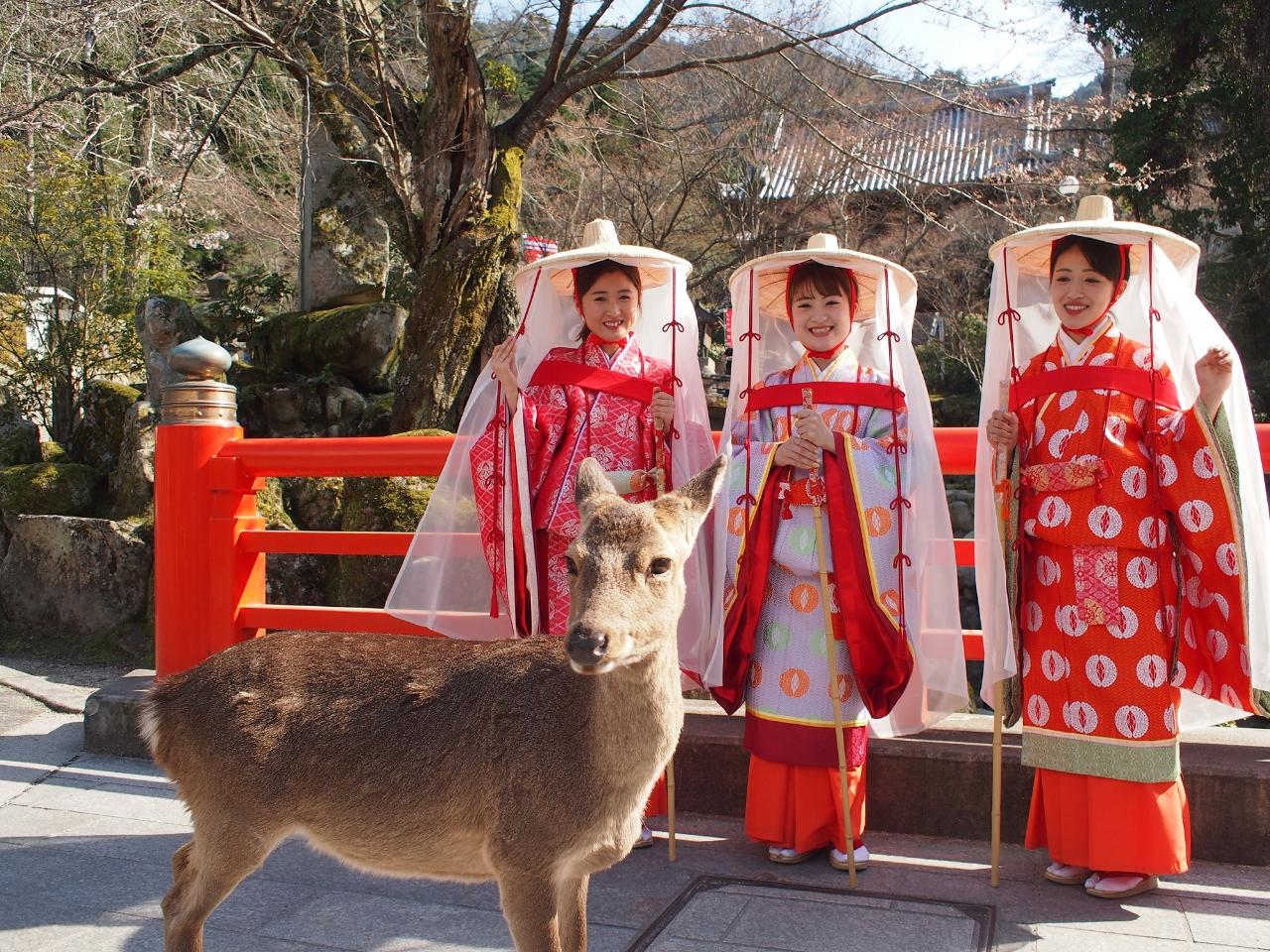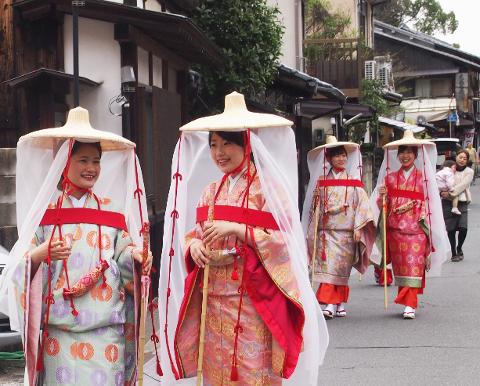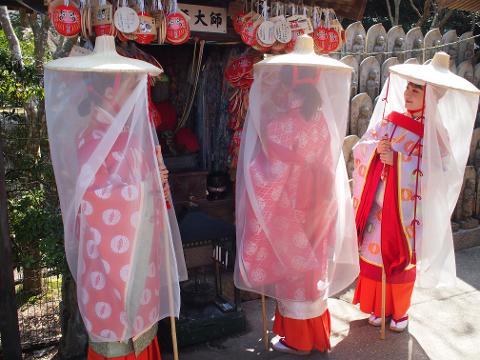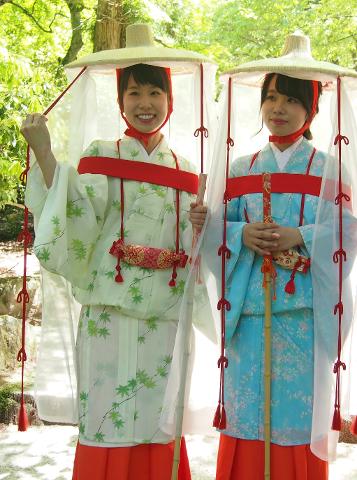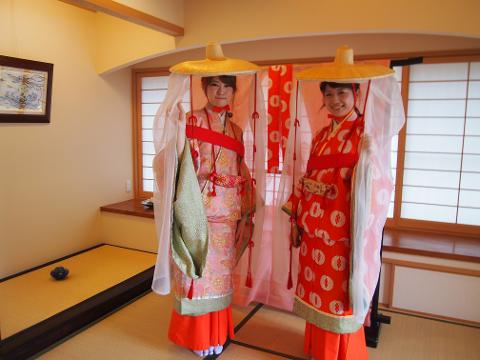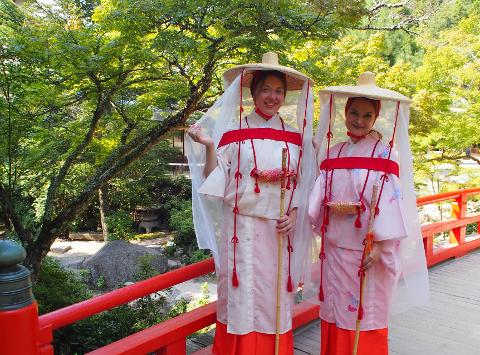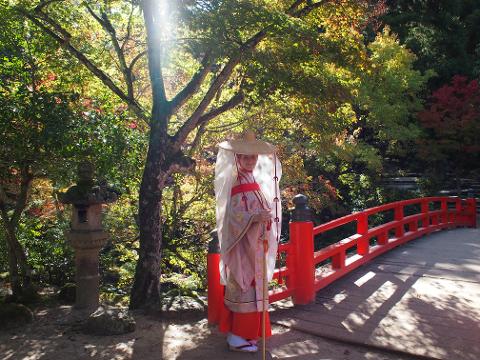 Duration: 150 Minutes (approx.)
Location: Hatsukaichi, Hiroshima
Product code: EN-HSM-4004-40041
【Outline】
On this experience you will wear a costume called "tsuboshozoku", which was worn by Japanese women of noble ancestry 1000 years ago when they went to visit temples.
Change into a full-fledged tsuboshozoku and walk around Daisho-in Temple and Momojidani Park. Unlike general kimonos, Tsuboshozoku can rarely be worn in Japan.
We invite you to create gorgeous and unforgettable memories while enjoying historical Miyajima.


【Highlights】
Experience the rare chance to dress wear a "tsuboshozoku", Japanese noblewomen's clothing from 1,000 years ago.
Immerse yourself in the city life as you walk the grounds of Miyajima dressed in traditional Japanese clothing.
You do not need to bring any additional supplies or items. Everything you need is provided in the plan!


【Schedule】
Arrival→Choose costume→Change into costume→Explanation→Going outside→End

【Details】
Enjoy sightseeing in Miyajima while wearing a "tsuboshozoku". Tsuboshozoku was the clothing worn by women of noble ancestry when they visited temples. The costumes are tailored with carefully-selected fabrics from Kyoto's long-established kimono stores using traditional items as patterns. Please choose the one that you like the most. You may imagine that it takes time to put on a costume from the Heian Era, but it only takes about 10 minute to fit into a genuine tsuboshozoku! You will wear a red kake-obi scarf on the shoulder, which is a protective and purifying charm. And worn around your neck will be a cute kake-mamori, which is an amulet that contains medicine and is shaped like candy. Lastly you will wear an ichimegasa, a hat made of sedge with a curtain-like sheer cloth that works as a sun hat and insect repellent.
After changing, you can go outside (up to 1 hour 30 minutes). There are various sightseeing spots within a walking distance. Although you cannot take a walk in the Itsukushima Shrine premises, the five-storied pagoda, or the coastal areas around the Otorii (the Grand Gate), we hope you enjoy strolling in the famous Daisho-in temple, which has more than 1200 years of history, and Momijidani Park where your tsuboshozoku will stand out against the lush nature.

(If it rains, you cannot go out for a walk. The plan will be changed to an indoor experience, but you will still be able to take beautiful photos in your tsuboshozoku. We have worked to create an alternative that will ensure a unique experience without getting wet. This will be 30 minutes at 4650 yen (tax excluded), and the balance between the settled payment and the actual cost will be refunded from Attractive JAPAN at a later date.

As you will not be accompanied by a guide, you can take photos freely with your friends using your own camera or smartphone. There is no doubt that you will be able to take Instagram-ready photos against the scenic backgrounds of Miyajima.

【Things to note】
Time:150 min.

Meeting point: Miyajima Momijino‐ga [MAP]

Along Omotesando Street, 2F, 593, Miyajima-cho, Hatsukaichi-shi, Hiroshima-ken, 739-0559

Access:
A 6-minute walk from the Miyajima Sanbashi Pier
Go along Omotesando shopping street
Find Masakiya (chopstick store) diagonally opposite to Miyajima Post Office
The shop is on the 2nd floor of Masakiya

Language support:English instructions, Staff with limited English

Included : Tsuboshozoku rental、Dressing up
Participation requirements :This plan is aimed at women aged 12 or over, except expecting mothers.

Free Wi-Fi:×

Other things to note:
- Please refrain from eating and smoking during the activity. (You can take bottled drinks as necessary to avoid heat stroke in summer.)
- It is prohibited to walk in Itsukushima Shrine premises (including coastal roads around the Otorii, the Grand Gate, and areas around the five-storied pagoda, etc). Please enjoy walking in Daisho-in Temple and the Momijidani Park.
- This plan is aimed at women aged 12 or over, except expecting mothers.
- On rainy days, the walking in tsuboshozoku will be cancelled and the plan will be changed to an indoor experience (30 minutes at 4650 yen(tax excluded). The balance between the settled payment by credit and the actual cost will be refunded from Attractive JAPAN at a later date.
From the end of May to September, "Tsuboshozoku" for summer with thin and breathable material is available. So you can experience the activity even in the hot season.
- From October to May, the ordinary "Tsuboshozoku" up to XL (international standard size) is available. From the end of May to September, summer "Tusuboshozoku" up to L size is available.
- Guide and photographer will not be provided.


【Fun Facts】
Tsuboshozoku are clothes worn by upper class women when they go out or travel since the Heian period (8th century - 12th century). In order to make it easy to walk, the hem of the kimono is pulled up and it is worn short. Even though it is an abbreviation, it was important not to lose elegance for the women of the public house. A hemp cloth hanging from a hat is characteristic but it was the rule for high-class women that they should not show their face. It seemed that the face could be seen which makes is mysterious. It seems that the cloths hanging in front of the face also worked as insect repellent.
【Nearby area introduction】
Itsukushima is known as a world heritage and the island itself has been the subject of natural worship since ancient times.The Itsukushima Shrine, famous for its red shrine gate floating in the sea, prospered with the reverence of the authorities of the time, and in the mid-12th century it was said that it had a shrine of the same size as the present one. Itsukushima is also called Miyajima, but it has the literal meaning of "an island with a shrine". During the Edo period (17th century - 19th century), the information about Itsukushima also spread to private citizens, becoming a typical travel destination. It is now popular with domestic and international travelers!


【HEALTH AND SAFETY MEASURES】
・Face masks required for travelers in public areas
・Face masks required for guides in public areas
・Face masks provided for travelers as needed
・Hand sanitizer available to travelers and staff
・Social distancing enforced throughout the experience
・Regularly sanitized high-traffic areas
・Gear/equipment sanitized between uses
・Guides required to regularly wash hands
・Regular temperature checks for staff


【Cancellation policy】
7 to 4 days before the tour date 40% of the tour price
3 to 2 days before the tour date 60% of the tour price
The day before the tour date, on the day of the tour 100% of the tour price
※Right after the online settlement is made, a cancellation fee of 10% will be incurred in case of cancellation.
※The cancellation fee includes handling charges.