SUP Tour of the Great Shrine Gate of Itsukushima Shrine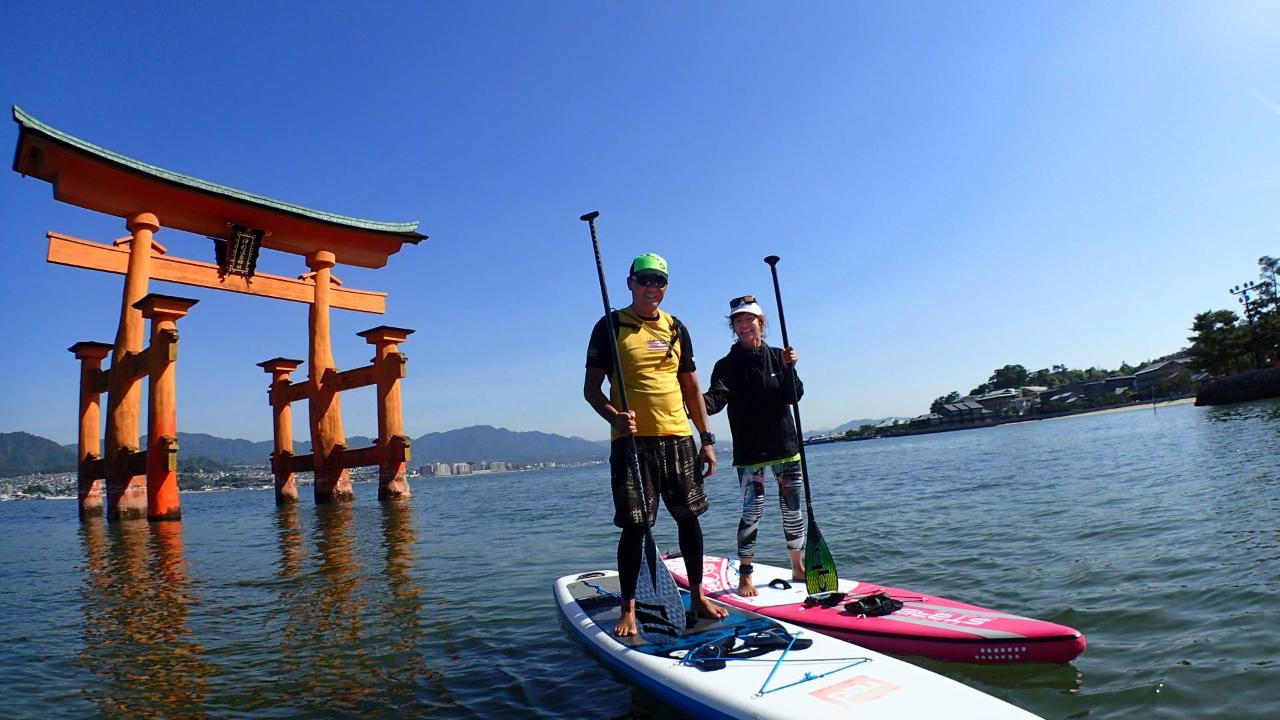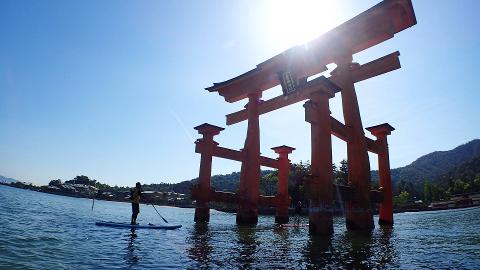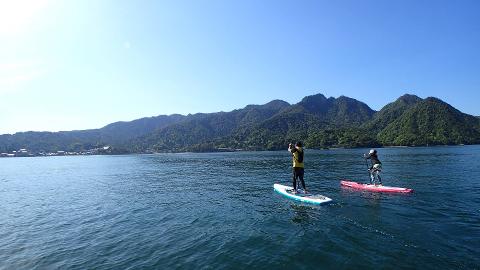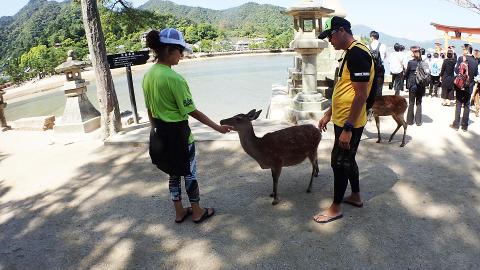 期間: 3 時間 (約)
所在地: 廿日市市, 広島県
製品コード: EN-HSM-4023-40231
【Outline】

Cross the sea by SUP and tour the World Heritage site, Itsukushima Shrine. This plan is a premium experience where you can see the shrine gate floating in the sea, up close, by SUP. An easy SUP lesson is provided for beginners, and an exciting course, to cross the sea, is prepared for experienced participants. This area has a gentle and beautiful sea dotted with a lot of islands; witness rare and beautiful scenery.
【Highlights】
Admire Itsukushima Shrine up close from the ocean.
Have an extraordinary and exhilarating experience you can only get from a Stand Up Paddle (SUP) experience.
Receive a detailed lesson from experienced staff.
Refresh your mind and body while surrounded by the spectacular view of the Setouchi Islands.
Receive commemorative photos of you with the World Heritage shrine gate.
【Schedule】

Meet at Miyajima Ferry Terminal → Reception→SUP lesson→SUP start→ Go from the beach to Itsukushima shrine→Return to the starting point→End
<Option>

After arriving at the embarkment spot with your SUP, it's possible to take a stroll around Miyajima.
(Arrival at Miyajima→Take a bath→Daisho-In Temple→Shopping area→Itsukushima Shrine→Return to the place of embarkment with your SUP)
【Details】

Row a SUP and visit the World Heritage site, Itsukushima Shrine. Itsukushima Shrine has a history of 1400 years and is a power spot (location thought to be flowing with mystical energy). You will feel an overwhelming sense of existence and spirituality. Itsukushima Shrine, which is built in the sea, is an extremely rare shrine. The sight of the shrine from far away is extremely beautiful, but enjoy the dynamic and unique trip by SUP. In this plan, you can get close to the great shrine gate of Miyajima. This shrine gate reaches 16 meters and is the biggest wooden shrine gate in Japan. Seeing it up close is very spectacular and will definitely become an unforgettable memory.
A SUP is, unlike a boat, something you row yourself and give you a sense of excitement and fulfillment. Furthermore, different from a sea kayak, you paddle a SUP while standing so you will have a very wide view and you can feel an exhilarating feeling. Rest assured as the certified staff will give you a lesson before you start. Even beginners can enjoy SUP. Have a relaxing time while coming in contact with the nature of Miyajima.
A special course is also provided for advanced participants. People with SUP experience will embark from a beach on the other side of Miyajima and will go by SUP for around 2 kilometers. You can experience scenery that is unique, even in Japan, with a sea consisting of a gentle bay and beautiful scenery of various floating islands.
※NOTICE
The Great Shrine Gate of Itsukushima Shrine has been under renovation since June 2019. There is a possibility that cannot be seen as normal. Thank you for your understanding.
【Things to note】

Time: 180 minutes/person
Meeting point:Miyajima Ferry Terminal
〒739-0588 Miyajima-cho, Hatsukaichi-shi, Hiroshima-ken
Access:
JR Miyajimaguchi Station→boarding the ferry→arrival at Miyajima
Language support:English

Included: Instruction, paddleboard, wet suit, guiding fees for the touring
Participation requirements:
10 years old and over
The participant should be good in health and should not be under the influence of alcohol.
Items to bring:Sandals, towels
Toilet:〇
Other things to note:You may fall off the paddleboard and get wet. Wear clothes which you do not mind getting wet.
*Shower and changing room are available.
【Cancellation policy】

7 to 4 days before the tour date 40% of the tour price
3 to 2 days before the tour date 60% of the tour price
The day before the tour date, on the day of the tour 100% of the tour price
※Right after the online settlement is made, a cancellation fee of 10% will be incurred in case of cancellation.
※The cancellation fee includes handling charges.