Magical Sunset Tour in Kagawa (Depart from Takamatsu Airport)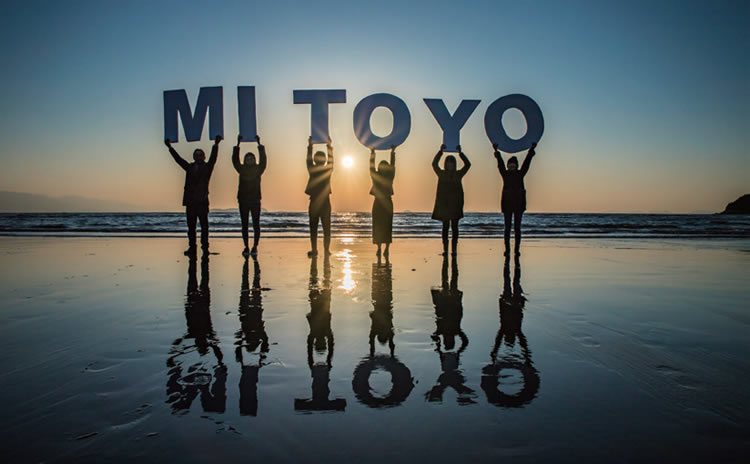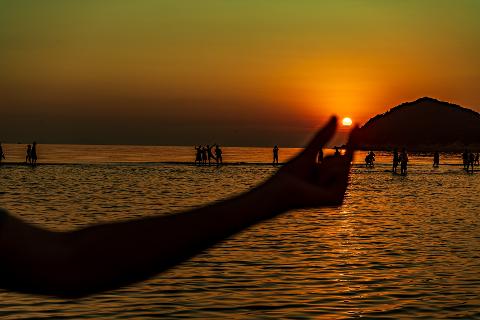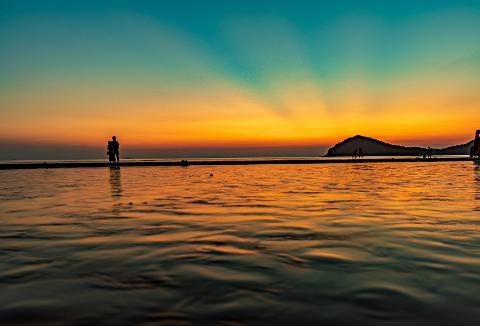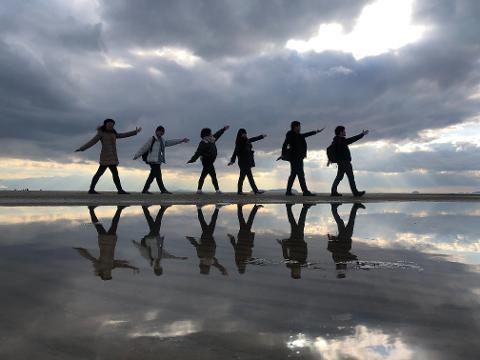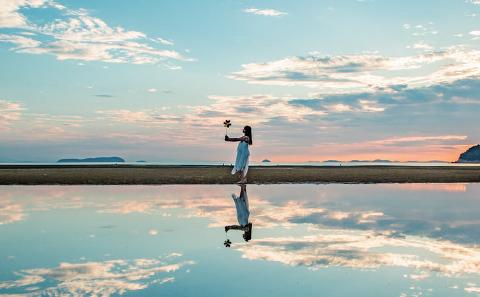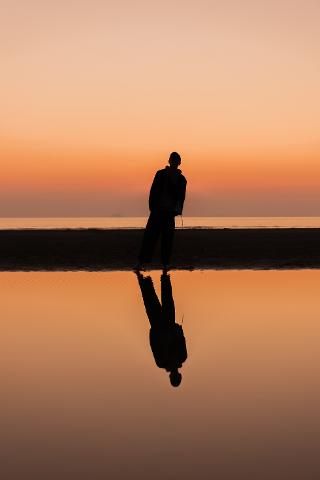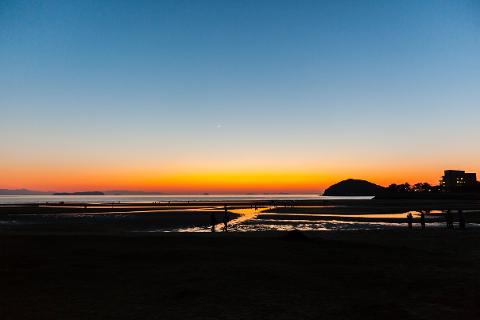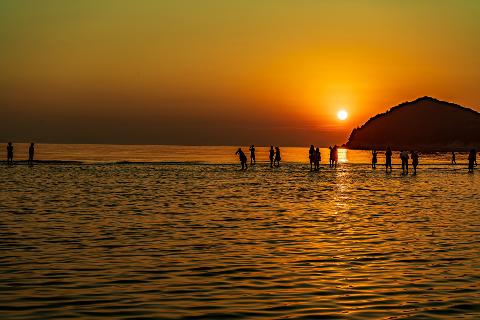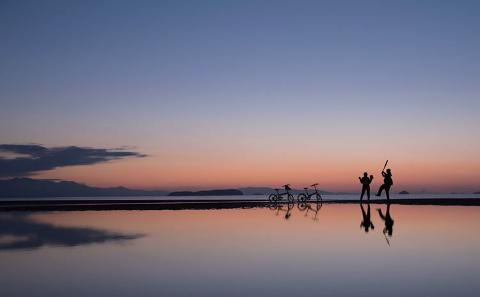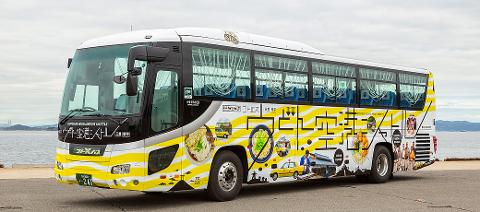 Duration: 210 Minutes (approx.)
Location: Takamatsu, Kagawa
Product code: EN-KGW-7154-71544
【OUTLINE】
This special set plan will take you from the airport, by bus to Chichibuga Beach, known as "Japan's Uyuni Salt Flat," by shuttle bus.


【HIGHLIGHTS】
The sunset at Chichibuga Beach was selected as one of Japan's top 100 sunsets, and is a memory that will last a lifetime.
Since there will be a brochure on how to take the best photos, there is no doubt your shots will look awesome on Instagram!
Buses to Chichibuga run according to the time of the sunset, so you will get the best use of your time.
【PRICES】
JPY 3,950(Tax included)
【SCHEDULE】
①14:00-14:50 Udon Airport Shuttle from Takamatsu Airport to Kotohira
②14:50- Disembark at Kotohira and have free time until the shuttle bus departure time (check-in to hotels, etc.)
③15:45 Shuttle bus to Chichibugahama Beach (departure time will vary based on season)
Shuttle bus (50 min) → Chichibugahama Beach (45 min) → Return to Kotohira by shuttle bus (50 min)


【DETAILS】
After arriving at Takamatsu Airport, go to Takamatsu Sightseeing Bus Platform 0 for the yellow "Udon Airport Shuttle" bus. Show your printed or on-screen voucher to the driver. The bus first stops at Kotohira Trip Base -Kotori-. From Kotori the bus will depart at the following time, depending on the month, make sure you proceed with the check-in, and come in time for departure.
● Kotori departure time → return time
April… 17:08→19:33(4/11(Sat)12(Sun)18(Sat)19(Sun)25(Sat)26(Sun)29(Wed))
May… 17:33→19:58(5/5(Tue)6(Wed)9(Sat)10(Sun)23(Sat)24(Sun))
July… 17:48→20:13(7/4(Sat)5(Sun)11(Mon)12(Sun)19(Sun)23(Thu)24(Fri)25(Sat)26(Sun))
August… 17:18→19:48(8/2(Sun)8(Sat)9(Sun)10(Mon)22(Sat)23(Sun)30(Sun))
September… 16:48→19:13(9/5(Sat)6(Sun)19(Sat)20(Sun)21(Mon))
● Kotori address: 725, Kotohira, Nakadado-gun, Kagawa-ken 766-0001

Spot information
[Chichibugahama] A calm beach about 1 km long, where when the wind dies down at low tide and the water ceases to ripple, your photographs will be reminiscent of the Uyuni Salt Flat in Bolivia. The beautiful sunset here was selected as one of Japan's top 100 sunset locations, and it makes for an amazing Instagram picture.
【THINGS TO NOTE】
Time:3.5 hours
Least participants:1 person
Meeting point:Takamatsu Airport Sightseeing Bus Platform 0
1312-7, Oka, Konancho, Takamatsu-shi, Kagawa-ken 761-1401
Access:After arriving at Takamatsu Airport, go outside from the exit near the arrival lobby and walk left for about 20 m to reach the "Takamatsu Airport Sightseeing Bus Stop 0". (If you are not sure, please call the Information Center on the 1st floor.)

Connected flight information
▼ From Korea: Connect to flights from Seoul on (Mon), (Thu), (Sat)
▼ From Taiwan: Connect to flights from TAipei on (Mon) ,(Fri)
▼ From China: Connect to flights from Shanghai (Mon), (Tue), (Thu), (Fri), (Sun)
▼ From Hong Kong: Connect to flights from Shanghai (Mon), (Wed), (Thu), (Fri), (Sun)


Tour conductor for 24 hours:None
Accompanying National Government Licensed Guide Interpreter or Local Licensed Guide Interpreter:None
Language support:Japanese
Meals (included in a tour fee):None
Included :Highway bus between Takamatsu Airport and Kotohira (one way), shuttle bus between Kotohira and Chichibugahama, a brochure on how to take the best photos, props such as umbrellas for taking good photos
Special support:
・Strollers can be brought in
・Infants can join if they sit on laps
Free Wi-Fi:×
Toilet (Western style) :〇
Other things to note:
・The "mirror of the sky" is a natural phenomenon, so you may not be able to see it depending on the weather on the day. Please note that refunds cannot be made in such cases.
・The regular cancellation policy will apply to cancellations made by customers due to weather conditions.
Operating company:Kotohira Bus
【TOUR TERMS AND CONDITIONS】
Before booking the tour, please confirm the Tour Terms & Conditions and save the document.
Check [TOUR TERMS AND CONDITIONS](Japanese)
【TOUR PLANNNER AND CONDUCTER】
Regional Branding Institute Co.,Ltd.
Aqua Terrace UⅡ bld. 8F, 2-20-3 Kaminarimon, Taiko-ku, Tokyo, 111-0034
Travel Agency registered with a Tokyo Governor 2-7547
A regular member of All Nippon Travel Agents Association
【CANCELLATION POLICY】
10 to 8 days before the departure date of the tour 20%
7 to 2 days before the departure date of the tour 30%
The day before the departure date of the tour 40%
On the day of the departure date of the tour 50%
After the tour departed, No show 100%