"Petit Tour" in Kinosaki's Countryside with a Sustainable Electric Tuk-Tuk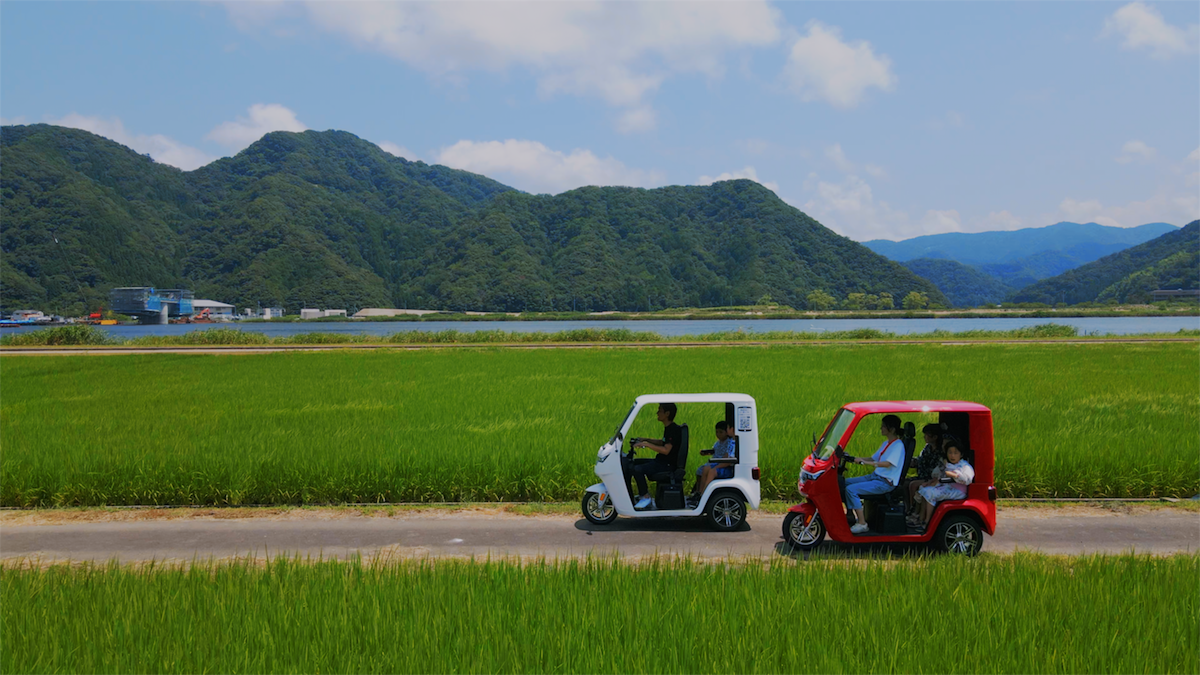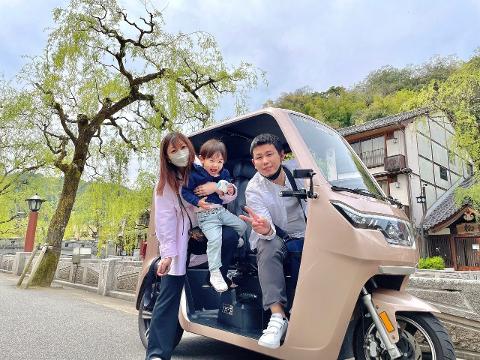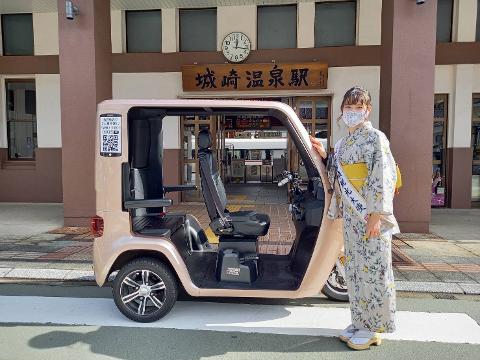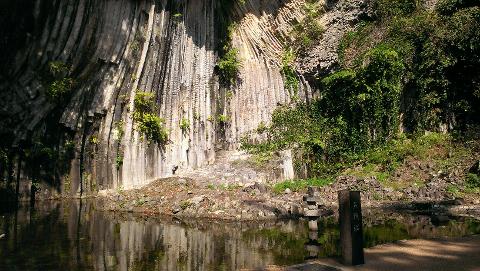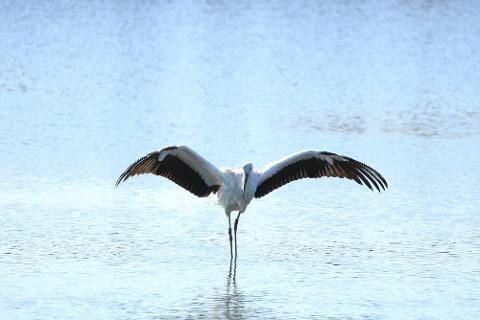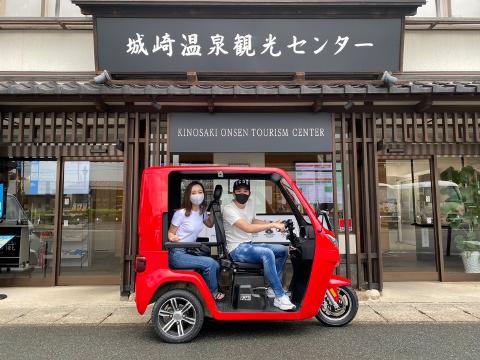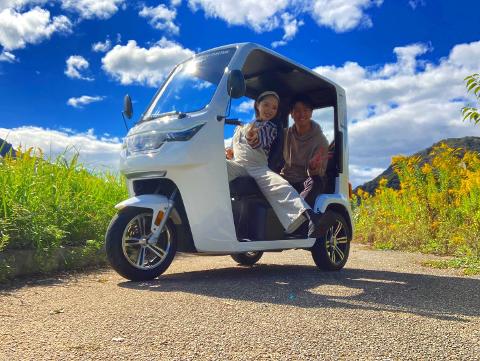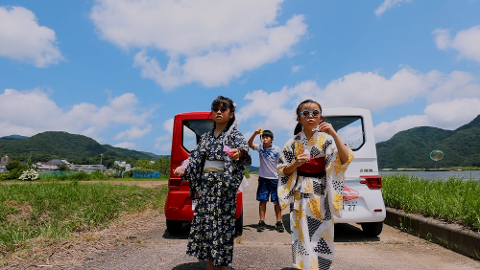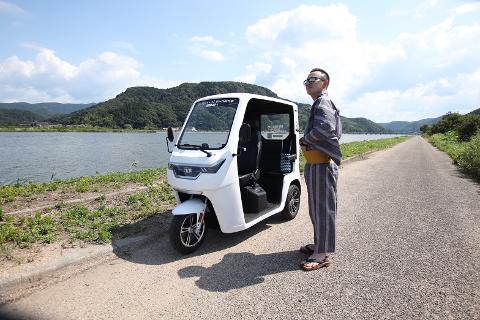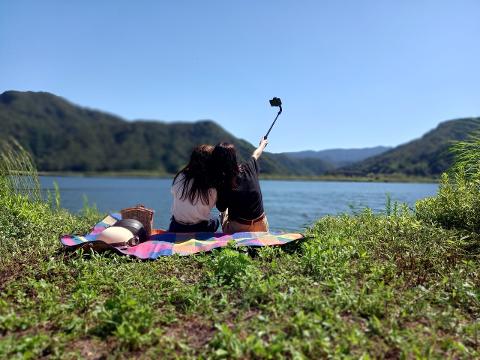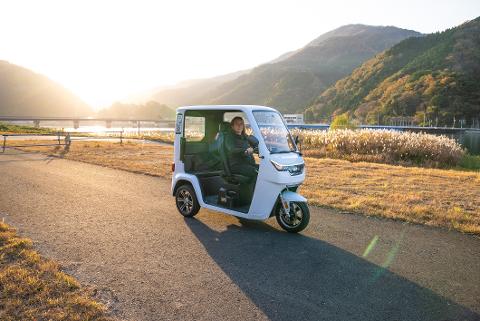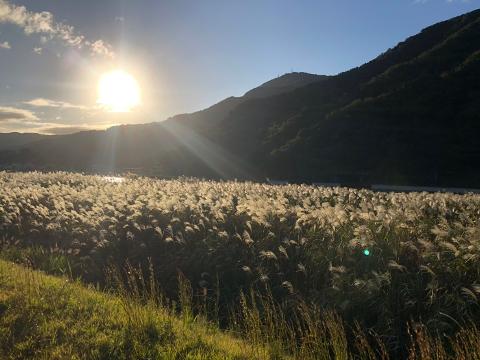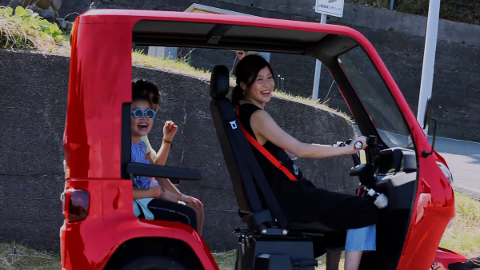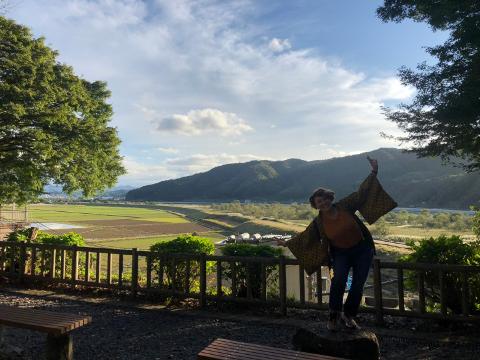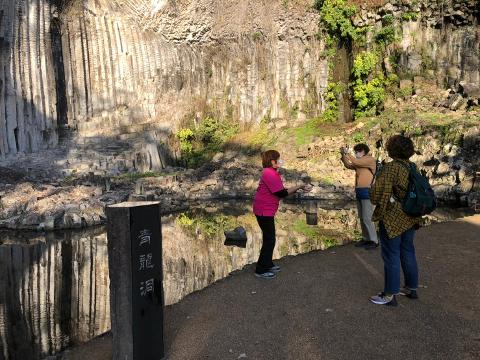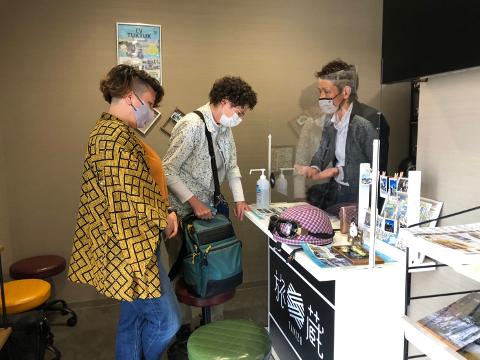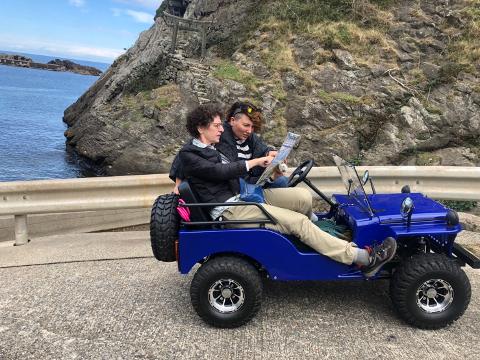 Durata: 90 Minuti (circa)
Luogo: Toyooka, Hyogo
Codice prodotto: EN-HYG-7254-72541
【OUTLINE】
A new way to enjoy Kinosaki! Take a "Petit Tour" of Kinosaki's Nature with Sustainable EV Mobility! Experience Kinosaki's natural beauty, not just strolling around the picturesque streets, hot springs, and tasting crabs, but with EV mobility in your spare time! Cruise around on your own, enjoy the side-trips, and avoid crowds! Courses can be arranged at registration, and driving the vehicle comes with practice, so no worries! Ideal for friends, couples, and families.


【HIGHLIGHTS】
Same-day applications accepted! Operated following social distancing guidelines, no guide, no meeting time, you can arrange it as you like!
The local travel agency has devised an adventure tour of Kinosaki's nature in the spare time before or after check-in or check-out at your hotel!
The EV mobility system, which emits no carbon dioxide while driving, is one of the most eco-friendly cars in terms of environmental performance! The first and only EV tuk-tuk in western Japan!
Kinosaki is more than just hot springs! Look for the storks that bring happiness, visit the power spot Genbudo Cave and circle the islands in the Maruyama River!
With a Petit Tabi map, enjoy a photogenic trip with feeling the flow of the river and the wind and the greenery of nature.
【SCHEDULE】
This plan allows you to choose the start time. Please select your start time in the box on the upper right.
◆Genbudo Course
1. Kinosaki Onsen Tourist Association
【Registration / Pre-Guide] Temperature check / Filling in the pledge form / Distribution of the MAP / Briefing of the course
【Rental】Guidance of how to ride EV Mobility / Practice
【Departure】Feel the wind in your face and explore where you want to go..
2. Nakanoshima Island
【The No. 1 photo spot in Puchitabi】
Rice fields and regular fields, which is a popular running course among the local, are floating on the Maruyama River. Enjoy the colorful faces of the seasons, "green" in spring and summer, "gold" in autumn!
Spend your time however you like such as take photos, having a picnic, feeling to the smells of nature, or listening to the sounds of the wind and the birds.
3. Stork Straight
At nicknamed "Ah slope", enjoy the downhill with rice fields on both sides, spread your legs and shout "Ah!"! The best time to see storks is from early spring to summer when they give birth and raise their young, at the artificial nesting tower right next to the road and the Tojima Wetland. Try your luck if you can see it or not! If you find one, good luck will come to you. Visit the Tojima Wetland and learn more about the storks!
4. Genbudo Park
【A stunning power spot created by basalt stone pillars】
Visit this scenic spot where you can experience the magnificent history of the earth, where the magma that flowed out of the volcano about 1.6 million years ago formed regular and clean cracks and joints on the pillars as it cooled and hardened.
There are five caves in Genbudo Park, which has been selected as a national natural monument and one of the top 100 geological sites in Japan.
The San'in Kaigan Geopark including Genbudo is recognized as a member of the UNESCO Global Geoparks Network. The word "basalt" means "life-enhancing and demon repelling.
※For those who cooperate with the riverside clean-up, we will give you a Polaroid to take home!
※There is no limit to the time spent at each spot, and it is up to you to decide how to spend your 90 minutes.
※The above is only a list of recommended spots on the MAP and is not required.


【DETAILS】
Kinosaki Onsen, one of the leading hot spring towns in Kansai. Since the Nara period (710-794), the power of its hot springs has been healing locals and tourists for generations.
Kinosaki Onsen is famous for its seven outdoor hot springs, but the town has more to offer to the visitors such as strolling around with yukata and geta(a Japanese wooden clogs)and visiting gourmet spots or shops selling handicrafts which make for perfect souviners!
We offer a new type of a self-guided tour, allowing travelers to enjoy Kinosaki's charms differently. Kinosaki Petit Travel allows you to make the most of your free time, whether you are waiting for a train or checking in.
Genbudo Park, a power spot where you can feel great nature, and Takeno Kaigan, a shallow beach with crystal clear water, can be visited with wearing yukata after Kinosaki's famous strolling.
Everyone including the first timer can enjoy EV (electric) mobility as the program includes some practice time before start. Ride a bike, and you'll be up and running in no time! The maximum speed of a tuk-tuk is 40km/h. The bike is so quiet that you can even enjoy conversations while driving! The cute design of EV mobility matches the very photogenic landscape of Kinosaki!
This tour was one of the finalists for the Japan Travel Award in the family categories. Customers will experience a journey of memories of Kinosaki that can be enjoyed by families, a perfect activity for travelers enjoying the famous hot spring town... From small children to the elderly, this is a tour for everyone."
Take a trip to enjoy Kinosaki's great nature, not just hot springs and crabs, and create beautiful memories with your loved ones?
For foreign visitors: do you have an international driver's license?
Foreigners visitors to Japan need an international driving license or similar in order to drive a car in Japan. The Japanese Government has concluded a treaty on road traffic (Geneva Convention on Traffic), and holders of an international driving license issued by the government of a country that has concluded this treaty are entitled to drive in Japan.
Main conditions for driving with an international driving license:
・The validity period is one year from the date of landing in Japan.
・Also carry a foreign driver's license.
Foreigners who have stayed in Japan for more than 90 days and are registered as residents can also convert a driver's license obtained in their home country into a Japanese driver's license. However, they must pass a knowledge and skills test at the driver's license center of their local authority.
Main conditions for switching from a foreign driver's license:
・Proof of having stayed in the country that issued the foreign driver's license for at least three months (passport)
・Possess a residence card.
・Pass a knowledge and skills test.
・Japanese translation of the foreign driver's license (issued by an embassy or consulate in Japan, Japan Automotive Federation <JAF>, etc.).
Depending on the country of acquisition, it may be possible to obtain an exemption from the same test.
【THINGS TO NOTE】
Duration:90 minutes
Meeting point:In front of JR Kinosaki Onsen Station Kinosaki Onsen Tourism Center [MAP]

78, Yushima, Kinosakicho, Toyooka, Hyogo,669-6101
Access: A short walk from JR Kinosaki Station
Language support:Japanese, English
Included :
・EV mobility rental fee (including advance practice)
・Petit Tour MAP
・Basic Accident Insurance
・Equipment such as helmets and jackets
・Pre-guidance (information about the course and safety check procedure and explanation)
Excluded:Additional insurance can be added for an extra fee (body injury/death: covering up to 15 million yen, hospitalisation covering up to: 2,500 yen per day * 500 yen tax included)
Items to bring:
To drive an Electric Motorcycle : 50cc Motorcycle License
For Tuk-Tuk and Mini Jeep: Standard driver's license
※Valid Internationnal or Japanese driver's license is compulsory.
Participation requirements :
・Infants are required to sit on laps. (Tuk-tuk backseat only)
・Not recommended for travelers with back problems.
・Not recommended for travelers with heart problems or other serious medical conditions.
・If you are pregnant, please check with your doctor to see if you can participate.

Special support:Luggage storage is available.
Free Wi-Fi :Yes
Free Wi-Fi is available in Toyooka City.
Please be aware that Wi-Fi might not be accessible everywhere on the course.
Toilet:Yes(Western-style)
Other things to note:
【Available Vehicles】
EV TukTuk(Max 3 passeners per vehicle)
Test drives available on site
【HEALTH AND SAFETY MEASURES】
・Face masks required for travelers in public areas
・Face masks required for guides in public areas
・Face masks provided for travelers as needed
・Hand sanitizer available to travelers and staff
・Social distancing enforced throughout the experience
・Regularly sanitized high-traffic areas
・Gear/equipment sanitized between uses
・Transportation vehicles regularly sanitized
・Guides required to regularly wash hands
・Regular temperature checks for staff
・Temperature checks for travelers upon arrival
・Paid stay-at-home policy for staff with symptoms
・Contactless ticket redemption
・As a certified facility under the Toyooka City "CLEAN and SAFE TOYOOKA" certification system for countermeasures against new coronavirus infections, we are taking thorough countermeasures against infectious diseases.
【CANCELLATION POLICY】
7 to 4 days before the tour date 40% of the tour price
3 to 2 days before the tour date 60% of the tour price
The day before the tour date, on the day of the tour 100% of the tour price
※Right after the online settlement is made, a cancellation fee of 10% will be incurred in case of cancellation.
※The cancellation fee includes handling charges.